It's a pleasure to have Jody A. Kessler back on the blog with her brand new release The Night Medicine.  This intriguing new novel is an Action/Adventure Time Travel Romance. Sounds fascinating, right?  Well, as a special treat we even have an excerpt today. First let's find out some more about Jody.

Jody A. Kessler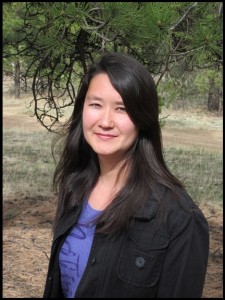 When Jody isn't navigating the terrain of her imagination and writing it down, she can be found exploring the wilderness of Colorado with her family, or in the kitchen baking cookies & brownies – and then trying not to eat them all. She's passionate about continuing to learn and reads anything and everything that catches her interest. Jody is a full time mom, a Reiki Master, and has taught Hatha yoga for over a decade.
Jody's debut novel, Death Lies Between Us, is the winner of RomCon's Readers' Crown award for best Paranormal Romance in 2014. She invites you to connect with her on her website at JodyAKessler.com  Or on Facebook, Twitter, & Goodreads.
Read on for more about this fascinating new book and a special excerpt.

The Night Medicine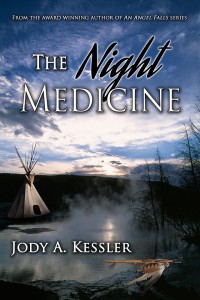 In 2012, Blackfoot tribal member, Dean Wolfsblood, is the reluctant guardian of a centuries old medicine pipe that makes time travel possible. When Dean's former Marine buddy, Badger Lowell, bribes him to take the arduous trip into the past, the last thing either of them expects during the "Night Medicine" ceremony is for an intruding grizzly bear to chase Kai, a beautiful and complicated Cree woman, into the past with them.
Upon arrival in 1868, the three unlikely companions discover deceit, murder, buffalo hunters, and a kidnapping waiting for them as they travel across mountains and plains to the gold mining town of Helena, Montana. As hidden motivations are exposed, secrets are revealed, and all well-meaning plans for their journey are cast away into the winds of time. Can they survive history and each other long enough to make it back, or will the past change their futures forever?
You can buy The Night Medicine at
Excerpt from The Night Medicine
Laughing Eyes sucked on the end of his pipe and then exhaled a long stream of smoke. "I know Anna-kai is not your sits-besides wife. She will make a good wife for you one day, but you must both be free of haunting spirits before this will happen."
"She will not be my wife. We are too different."
"You look at her like she is already yours."
"Looking is not everything."
"First you look. Then you imagine her in your furs. Then you become her husband."
Dean tried not to smile at Laughing Eyes' simple and accurate account of finding a wife.
"You said we are both in need of healing. This may or may not happen."
Laughing Eyes looked at Dean as if to say, of course you will be healed.
Dean sighed and then said, "Kai is like finding the sacred paints along the river. One must dig through many layers of earth to find the true colors beneath."
"You understand her well, Dean. She understands you."
"I think I have just scratched the surface. I'm not sure I should dig any deeper."
"What you say is true of most women. If you give it time, the rain, the wind, and the changing of the moons will expose what is beneath the surface. Perhaps you will be there to see the colors. Perhaps the colors will run into the river for no one to see."
"I don't know if I can wait for her through the seasons, or even through one moon. When I am home alone, it is a struggle for me." He swallowed. Alone at home was when his mind turned against him. It was when he thought about his old life and when beer became an easy option.
"A woman in your lodge would cure this problem," Laughing Eyes said with a wink.
How had their talked turned to this? He asked the question he first intended. "Is there a way to take her back to her time before the next new moon, Laughing Eyes?"
"The spirit of the bear guides her clan. If the bear wants her here, I would honor him."
"She has a son."
"Kai has told me this. The risks are great, Dean. The God of the Void may take pity on you. He may not. Would you risk a young mother's life for an early return?"
"I would not take that risk."