Holiday Sale!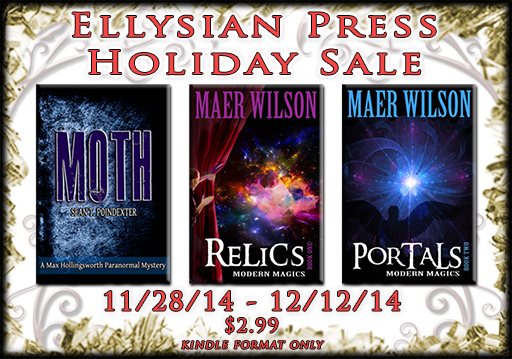 Ellysian Press is holding a holiday sale and Relics and Portals will be available for $2.99 on Kindle from now until 12/12/14!
RELICS and PORTALS are both on sale for $2.99 each at Amazon, along with MOTH by Sean T. Poindexter! The links to each are below:
RELICS – http://www.amazon.com/gp/product/B00NULK7PE/
PORTALS – http://www.amazon.com/Portals-Modern-Magics-Book-2-ebook/dp/B00OHV4H0C/
MOTH – http://www.amazon.com/Moth-Hollingsworth-Paranormal-Mystery-Book-ebook/dp/B00ME3PRRW/
 Be sure to get your copies while the sale lasts!