Sean T. Poindexter, The Next George R.R. Martin?
Part 1

Now before you run screaming "Nooooooooo" from the room or pick up the nearest object to throw at your computer screen, hear me out. I'm going to do something I don't often do. I'm going to gush. Yeah, yeah, I know – I'm not a gusher. But this writer – Sean T. Poindexter – is special. I'll be doing an interview with Poindexter in the near future, but for now let's focus on his work.
Most of my readers know I'm a huge George R.R. Martin fan and have been for many years. I believe A Song of Ice and Fire is one of the most brilliant sagas ever written. 
The first time I read a Sean T. Poindexter novel was in 2012, and it was The Shadow of Tiamat, the first book in The Dragon's Blood Chronicles. I was immediately impressed and captivated by his writing. And of course, being someone who loves dragons, the story had my attention. I followed the first book up with the second and was a huge Poindexter fan after that.
DISCLOSURE – When Jen Ryan and I started Ellysian Press, to my immense surprise and humble appreciation, Sean was the first to submit to us. We were thrilled to contract his Max Hollingsworth Paranormal Mysteries, Moth and Storm as our first books. 
Jen is our real editor, but I do what I call editorial notes simply because I'm not in her league. I'm looking at characters, dialogue, story, plot holes, continuity, and consistency, as well as anything that takes me out of the story. When you're editing or doing editorial notes that's when you truly appreciate just how good someone is. My job is to point out the things I see as issues before they go to Jen for a thorough and complete editing workout.
As I was doing my editorial notes for Moth, I realized just how brilliant Poindexter is.  The most amazing thing was that here, at our small press, was an author who could hold his own and indeed is equal to some of the masters in the Spec Fic genres. The more readings I did on Moth, the more I appreciated the excellence of his writing. Moth is a chilling look at vampires and child slavery and reads so believable you'll be looking over your shoulder.
After signing Moth and Storm with us, Poindexter brought us his Young Adult Fantasy, Exiles of Forlon, and also The Dragon's Blood Chronicles. So I've had the opportunity to become immersed in three different Poindexter series. Every time I read one of his books, I'm impressed with his writing all over again. And thankful to the publishing gods that this man has brought his books to us.
Poindexter's writing is edgy, gritty and contains some of the most beautiful prose I have ever read. That was something I particularly noticed while reading Moth, but it's held true through Exiles of Forlorn, and his other work. Poindexter's characters capture you and feel so real they keep you entranced long after the book has ended. His stories are fresh, with unique twists and turns and make you want to demand what happens next. It's not an exaggeration to say his work is literary quality. Exiles of Forlorn is so beautifully and effortlessly done that I am, quite frankly, amazed.
I'm currently doing my editorial notes on The Dragon's Blood Chronicles and I was once again struck by just how good a writer Poindexter is. And I decided it was time to say so. 
Am I biased as Sean's publisher? Probably. But don't forget I was a fan of his for two years before he signed with us in 2014. I'd have to say that the editing process of getting in and looking for the problems has given me a greater appreciation of his writing, not less of one. And for me it's that ability to hold up to multiple readings that sets an author apart from the pack. I've read Martin over and over and loved each reading because I found something new. I do the same with Poindexter. His work holds up for that fourth, fifth and sixth reading.
Sean T. Poindexter is an author who deserves to be read. He should be nominated for major awards – and win! He deserves a large audience who appreciates his art as much as his current group of fans do.
Yeah, there are a LOT of great authors out there that no one has ever heard of. But I honestly feel Poindexter is several cuts above even some of the best of those. His writing is epic, and as a gamer I'd have no problem awarding him legendary status.
So once you have burned through Martin's awesome books. Try Poindexter. I think you will become a fan. 

Exiles of Forlorn
It all began when the old man died.
On a ship of exiles bound for the edge of civilization, he passes on his life's work to a band of youths. He gives each of them a piece of information that leads to a mythical treasure.
The five friends – the lord's son, the soldier, the thief, the beautiful river pirate and the wizard's apprentice – all agree to join the hunt.
They arrive on the shores of Forlorn eager to begin their journey, but find a community plagued by threats from pirates and man-eating giants. The friends must choose to either stay and help those who have taken them in or to venture into unknown lands in search of a prize that may not even exist.
Either choice promises excitement, danger ? and death.
You can buy Exiles of Forlorn at these links:
***FREE for Kindle Unlimited subscribers***

Paperback

Moth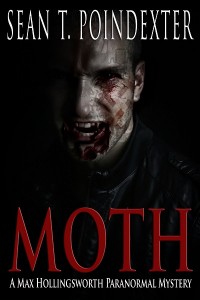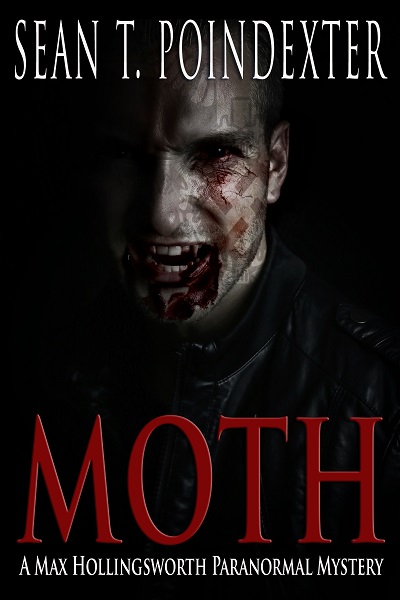 Social worker Max Hollingsworth is no stranger to monsters. Supernatural or human, he's faced all kinds. But when he's called upon to investigate a missing child, he may have met his match.
Children are vanishing, not just from the streets, but from their parents' memories. Max's investigation leads him to a gang of neo-Nazi vampires running a child slavery ring. There, he comes face to face with the deadliest enemy he's ever met, their charismatic and powerful leader Boone.
Running low on hope and options to find the missing children, Max turns to his friends for help. But even they aren't enough. Forced to face the darkness of his own past, Max forges an alliance with the least likely ally of all. An enemy whose cruelty was almost his end, and haunts him still.
For mature readers, 18+ only.
 Available From These Retailers:

This concludes Part 1 of my feature on Sean T. Poindexter. Please check back for Part 2, which includes a new In the Spotlight interview with Sean.