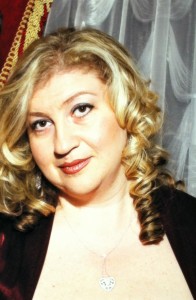 Irina Shapiro
is

It's a treat to welcome Irina to the blog today.  Her Hands of Time series is highly rated and I've added it to my To-Be-Read list. If you love time travel, this is to one not miss.

Irina Shapiro was born in Moscow, Russia, where she lived until she was eleven.  In 1982 her family emigrated to the United States and settled in New York.  Due to her love of reading, Irina was able to pick up English very quickly, and was an honor student throughout her school career.
After graduating from Bernard M. Baruch College in 1992 with a Bachelor's degree in International Business, Irina worked in advertising for two years before shifting her focus to Import/Export.  She worked her way up to the position of Import Manager in a large textile house before leaving the work force in 2007 to focus on her autistic son.
It wasn't until Irina had been at home for some time that she began to write.  Eventually the characters began to take on a life of their own and have conversations in her head, and once she started writing her musings down the stories came easily enough.  Irina incorporated her love of history and travel into her writing to create a rich and detailed background for the characters.  Since then Irina has written eight novels.  She is currently working on book five of The Hands of Time Series.
Irina Shapiro lives in New Jersey with her husband and two children.
For more about Irina, please read on…