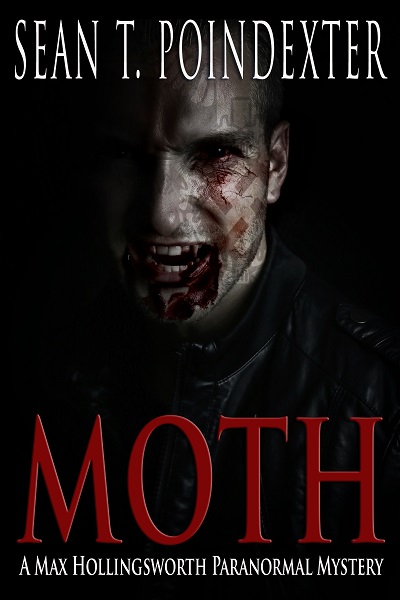 Moth
Moth has gotten a new look! Sean T. Poindexter's dark and edgy novel takes a look at what happens when Neo-Nazi vampires enter the child-slavery ring. This is one of the most powerful books I've ever read. It explores serious themes, yet is also a satisfyingly gritty adventure into a world where vampires are definitely not the nice guys. Poindexter's writing won me over with his dragons in The Dragon's Blood Chronicles. He gets into your head and heart in a way that stays with you long after you read the last page.
If you like Anne Rice's The Vampire Chronicles, then this 5 star book is for you!

Moth
Social worker Max Hollingsworth is no stranger to monsters. Supernatural or human, he's faced all kinds. But when he's called upon to investigate a missing child, he may have met his match.
Children are vanishing, not just from the streets, but from their parents' memories. Max's investigation leads him to a gang of neo-Nazi vampires running a child slavery ring. There, he comes face to face with the deadliest enemy he's ever met, their charismatic and powerful leader Boone.
Running low on hope and options to find the missing children, Max turns to his friends for help. But even they aren't enough. Forced to face the darkness of his own past, Max forges an alliance with the least likely ally of all. An enemy whose cruelty was almost his end, and haunts him still.
For mature readers, 18+.
Get your copy of Moth today!

Sean T. Poindexter
Though born in Mesa, Arizona, Sean has spent most of his life in Missouri. After college, Sean went into social and investigative work, primarily with disabled adults and seniors. Sean's background in sociology, criminology, and philosophy and his experience as an investigator for the State of Missouri, are heavy influences in his writing.
While Sean has been writing most of his life, he did not consider doing so professionally until he was inspired by a terrible vampire movie. During the film, Sean amused himself by imagining the vampires being attacked by a dragon. His imagination resulted in his series, The Dragon's Blood Chronicles, featuring dragons and vampires.
Sean enjoys watching and reading science fiction, fantasy, horror, and thrillers. His hobbies include playing Xbox, fantasy role playing games and collecting firearms.
Moth is Book 1 of The Max Hollingsworth Paranormal Mysteries. Sean's other books include The Shadow of Tiamet and The Will of the Darkest One, both from The Dragon's Blood Chronicles.
You can follow Sean at these links: