Ghosts of Modern Magics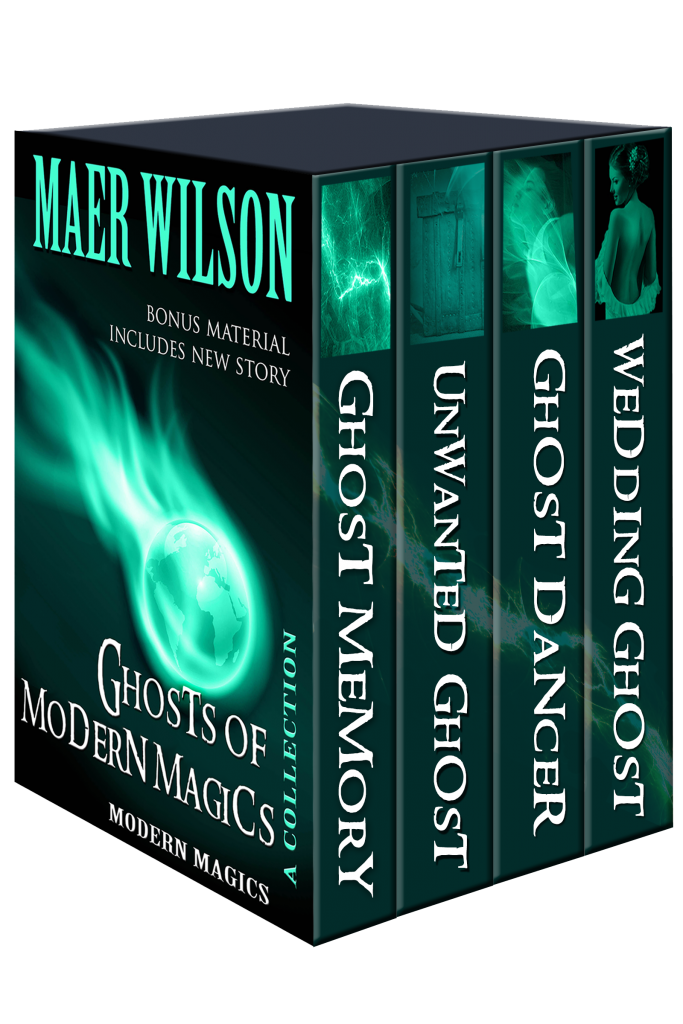 The entire collection of the novelettes from my Modern Magics series is now on sale!  In addition to the four novelettes, I've included a brand new story written just for this collection. The topic of that story was chosen by the members of my awesome street team, Team Thulukan from Facebook, and is dedicated to them. Feel free to come join us in Team Thulukan.
Oh, and this collection also includes samples from each of the full-length novels in the Modern Magics series, with a special sneak peek at the soon-to-be-released third book, Magics.
The novelettes were written as companion pieces to the novels. Readers had asked about Thulu and La Fi's lives before the events in the books. So, I began the stories to answer some of those questions.
The novels are cross-genre Urban Fantasy / Sci Fi / Paranormal Mystery and tell what happens when magic returns to Earth. However, the novelettes are firmly in the Paranormal Mystery genre. While set in the same universe and with the same characters, the novelettes have a  slightly different feel to them than the books.
The cover for the box set was designed by the talented M Joseph Murphy, who designed the entire Modern Magics series. He also wrote the foreword to this box set. (Thanks, Joseph!)
My editor, Jen Ryan from Imagine That Editing, added an editor's note to the collection, too. So there's some behind-the-scenes insight from two of those connected to this series.

Ghosts of Modern Magics
Before magic returned to Earth in the Modern Magics novels, Thulu and La Fi's clients were usually the dead. The Ghost novelettes detail a few of their more memorable cases.
"Ghost Memory" – An amnesiac ghost hires Thulu and La Fi to find missing money from his home for his aging husband.
"Unwanted Ghost" – The couple inherits a furnished Victorian, complete with its own noisy ghost.
"Ghost Dancer" – Young Danika asks Thulu and La Fi to save her dog from the killer who murdered her.
"Wedding Ghost" – Just before their own wedding, the detectives are hired to find out what happened to another bride ninety years before.
BONUS MATERIAL
"Lost Ghost" tells the story of eleven-year-old Thulu and Fiona's first case.
This collection also includes samples from the Modern Magics novels – Relics, Portals and the upcoming Magics.
This collection will be available from the usual online retailers soon, but is currently on sale at:

There's plenty about me elsewhere on my blog, but feel free to check out my links and follow me at:
A special thanks to all my readers, friends and supporters! You are all greatly appreciated. Please don't forget one of the greatest gifts you can give an author is a review. So, feel free to rate any and all of my books and novelettes at online retailers.
Happy Reading!