Holly West
is

Holly West returns to the blog with her newest novel, Mistress of Lies!

Mistress of Lies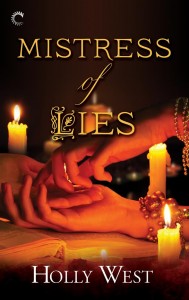 London, 1679
Isabel, Lady Wilde, mistress of King Charles II, has made a good living disguised as fortune teller Mistress Ruby, counseling London's elite. But after the murder of one of her customers, business has taken a downturn, and Isabel is on the verge of accepting the king's offer to move into the palace.
Isabel's plans are interrupted when a beggar girl named Susanna shows up at her home, claiming to be her niece. Isabel always believed that her older brother, Adam, died alone during the plague. When Susanna reveals that Adam was actually murdered, Isabel is compelled to take up an impossible task: discover the truth about her brother's death, twelve years after it happened.
Isabel's investigation leads her through the gamut of London society, from bear-baiting matches and brothels to the realm of wealthy bankers. But as she uncovers her brother's dark secrets, Isabel begins to wonder whether the past is better left buried, especially when uncovering the truth could lead to her own funeral.
Read on for more about Holly West, Mistress of Lies, and how to win a new Kindle Fire!
You can find Mistress of Lies at these links: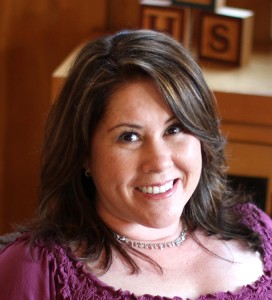 Holly West is a crime fiction writer based in Los Angeles. Her short stories appear in several anthologies and her debut historical mystery, MISTRESS OF FORTUNE, will be published by Carina Press in 2014.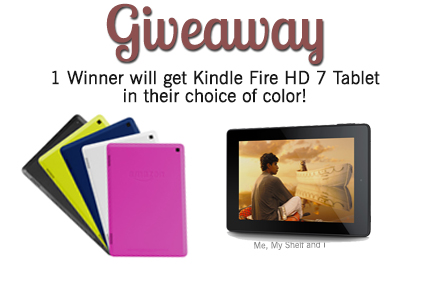 Giveaway
Must be 13+ To Enter | Ships in US ONLY
1 Winner will get a  

Kindle Fire HD 7 (8GB) Tablet in their choice of color.
Now let's shine the spotlight on Holly!

Maer:  Thanks for joining us to tell us about your new book, Mistress of Lies. What is the funniest or oddest thing that has happened to you as an author?
HW:  This isn't funny or odd, exactly, but this year, I attended my first mystery conference as a published author. Back in 2009, when I attended my first conference as a fan, I got to meet Sue Grafton, my writing idol. Fast forward to this recent conference and I found myself at the same signing table with Sue. She was at one end, and I was on the other, like bookends. In all the fantasies I'd ever had about being a published author, this one hadn't occurred to me. It was quite a thrill.
Maer:  Oh, I bet! How fun. Do you use beta readers and, if so, what qualities do you look for in a beta?
HW:  I've been fortunate to have some great beta readers. They really are so important to the process of making your book the best it can be. I look for readers who I trust will give me honest feedback, people who are fairly well-read in a variety of genres, and are, in general, book lovers.
Maer:  So, what is a one-line synopsis for your book?
HW:  When a beggar girl claiming to be Isabel Wilde's niece reveals that Isabel's brother, Adam, was murdered during the plague, Isabel must take up an impossible task: discover the truth about her brother's death, twelve years after it happened.
Maer:  Like all of your books, this one sounds fascinating. Is this a stand-alone or part of a series?
HW:  Mistress of Lies is the second in the Mistress of Fortune historical mystery series, set in Restoration London and featuring Isabel, Lady Wilde, a mistress to King Charles II who secretly makes her living as a fortuneteller.
Maer:  I love the premise for your series. Which character, other than Isabel, is one of your favorites to write and why?
HW:  Without question, it's Lucian Barber, my MC's brother. He's a moderately successful playwright at with the Duke of York's Theater, a womanizer, and favorite of King Charles II. Lucian is funny, irreverent, and bawdy—a hopeless gambler and given to drunkenness—but so charming that no one can resist him.
Maer:  he sounds it. If you had to pick a color to describe Isabel what would that be and why?
HW:  This is a tough question because I never think of people (or characters) in terms of color. But I think I'd choose green for Isabel because she has auburn colored hair and green looks good on her.
Maer:  Who are your favorite authors to read?
HW:  For crime and mysteries I love Sue Grafton, Lawrence Block, David Liss, and Tana French. I'm currently loving Megan Abbot's books, especially DARE ME, which I just finished. I'm a big fan of true crime and for this Erik Larson is my favorite.
Maer:  Can you share a bit about the project you're working on now?
HW:  My current project is a contemporary stand-alone novel set in Los Angeles (my current home) and a fictional town called Gold Valley in Northern California, based upon the town I grew up in. It's about an alcoholic actress who has a repressed memory during a counseling session in rehab and realizes she witnessed her mother's murder 25 years earlier. She returns to her hometown to investigate.
Maer:  That one should be another winner! What do you do when you're not writing?
HW:  My life is pretty simple. I read a lot, watch movies and cooking shows. My husband and I enjoy skiing and traveling in general. We went to Machu Picchu this year, which was fantastic. Everyone should go if they have a chance. My bio says one of my hobbies is petting dogs, which is absolutely true—I pretty much have to pet every dog I meet.
Maer:  You're on the right blog! Big-time dog lover here, too. What influenced you to write in your genre? Do you write in others?
HW:  Sue Grafton, David Liss, and Lawrence Block are my three biggest influences in the genre. I don't currently write other genres, but I'd love to write a young adult novel or a true crime book some time.
Maer:  What music, if any, do you like to listen to while writing?
HW:  Music is too distracting for me, especially if it has words.
Maer:  Holly, thank you so much for being on the blog today. Best of luck with your new novel. Do you have anything you'd like to add?
HW:  Thanks for hosting me, and of course, thanks to my readers!