Thanks to M Joseph Murphy for his brilliant work on putting this together. I was on a panel at the CSU Fullerton Philip K. Dick Conference on April 30, 2016. Joe took some of the best moments from that event and has created wonderful companion to my book, The Other Side of Philip K. Dick.
Enjoy!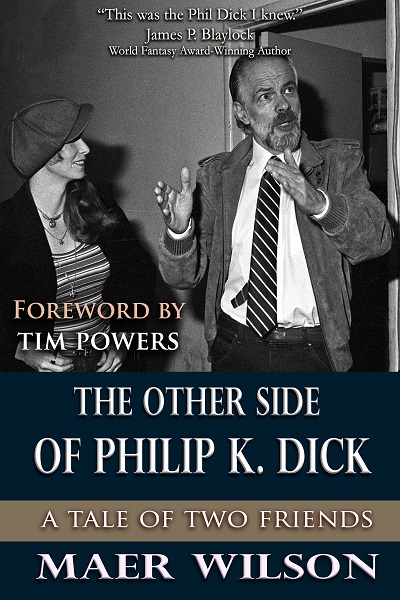 "As a literary figure, Philip K. Dick is popularly perceived as a crazed, drug-addled mystic with a sinister Third Eye. Nothing could be further from the truth – the Phil I knew was a warm, humane, very funny man. Maer Wilson understands these truths far better than I, and The Other Side of Philip K. Dick casts a welcome shaft of daylight upon the real PKD, as opposed to the dark, distorted caricature Dick has become." Paul M. Sammon, Author of Future Noir: The Making of Blade Runner
What is the truth behind the legend of Science Fiction great, Philip K. Dick?
In spring, 1972, Phil Dick moved to Fullerton, CA, where he met Theatre student Mary (Maer) Wilson. Amid marriage proposals, marathon talk-fests and a love for music and films, they forged a strong friendship that would last the rest of his life.
Wilson's quirky, yet unflinchingly honest, memoir reveals a funny, compassionate and generous man. She captures an inside view of one of our literary greats – a brilliant writer who gave the world some of its most revered Science Fiction.
"I found this book engrossing and authentic – a truthful and serious account of the last part of Phil Dick's life by someone who was a fundamental part of it and who has the skill to write about it. There is evident love and friendship in this book, but also honesty. This was the Phil Dick I knew." James P. Blaylock, World Fantasy Award-Winning Author
The book releases in all formats including paperback on 8/9/16.
You can pre-order your copy of
 The Other Side of Philip K. Dick
today at these retailers: