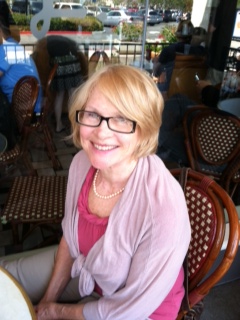 Kathleen Rowland
is

It's a pleasure to welcome Kathleen to the blog today to chat about her book, A Brand New Address, her first novel in the Intervenus series.

Kathleen Rowland
At sixty-eight the clock is ticking, and Kathleen Mary Elizabeth Pugh Rowland lives in the present. She cherishes any kind of time with her husband whether it's moonlight sailing or walking the dogs. Did she mention Gerry is witty, intelligent, warm, and understanding? As the song goes, she's lucky to be in love with her best friend. Of course as empty-nesters, they welcome the rowdy "fabulous five" and their terrific people any time.
As long as she can remember, storytelling has been a release. Writing fiction has given her a chance to escape into worlds she's created. Kathleen writes romantic suspense under her own name Kathleen Rowland. So that readers don't become confused, she decided to write a new adult series under the pen name, Rudyard Rowland.  Rud is a younger version and doesn't like her name either. That's right. With the last name Pugh, her nicknames were Pughie, Pughtrid, and Pugh-bird. "Hello Stinky!" In the U.K. someone made a list of the most embarrassing last names, and at the top was Shatwell.  Some things end up being fortunate.  She never makes fun of anyone, and some situations (like introductions) make us brave.  That's Kathleen, she's brave. She's done many courageous things. She's moved to new places, brought up five children, started new careers, and created wish lists.  If you'd like to use her method, break a wish down to achievable targets with a deadline. Dreams do come true.
Read on for more about Kathleen!