Magical Weddings ~ New Release ~ 15 Enchanting Romances
Whether real or only in the hearts of the bride and groom, the magic of weddings is undeniable and irresistible! As these 15 enchanting happily-ever-afters by bestselling and award-winning authors prove.
From sweet to spicy, the romances bundled into this set cross time and unite hearts, cast spells of laughter, battle wedding jitters and fight back tears, while weaving love's hopeful magic throughout 1400 pages.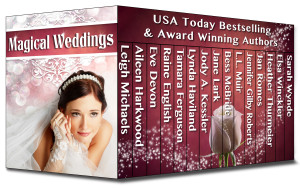 The box set is on sale for only .99 cents!
~~~
Giveaway
Prizes include a $20 & $10 Amazon Gift Cards
Earrings
Ebooks, audiobook, and a signed paperback from the various box set authors.