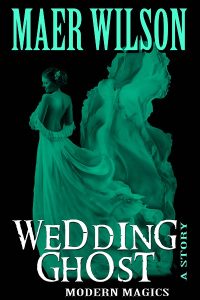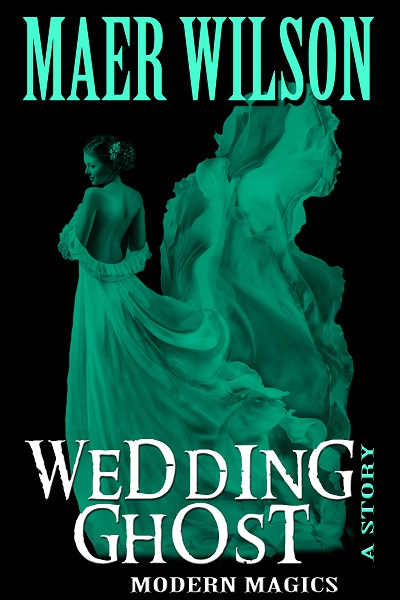 La Fi wants to be done with the wedding from hell. The fact that it's her own makes it worse.
Dreading the spotlight, she's tempted to elope. But with their wedding only days away, that's not an option for supernatural detectives, Thulu and La Fi.
Fortunately, a case comes along that helps distract them as the big day approaches. The client is a bride, dead for over ninety years, who wants to find the truth behind her murder.
Add to the mix a teenage ghost fixated on making La Fi his own bride, and since he can't come back to life, he's happy to bring her over to his side.
Juggling the case, her wedding and the sinister teenager, La Fi would like to enjoy what should be the happiest day of her life. That's assuming the ghost boy doesn't get his way and she actually makes it down the aisle.
"Wedding Ghost" is a prequel novelette in the Modern Magics series.
Available at these retailers:
Reviews for "Wedding Ghost"
Poor La Fi by Louann Carroll – Vine Voice Reviewer – 5 out of 5 stars
Poor La Fi. She's at home, worried about her upcoming wedding when all of a sudden a bride appears covered in blood. Taken aback, La Fi, once again steps up to the plate. She'll help the young woman discover how and why she died at the hands of another. This will provide the perfect distraction from La Fi's own wedding troubles.
La Fi and Thulu had wanted to elope, but Thulu's family decided differently. In order to not hurt their feelings, La Fi and Thulu agree to have the wedding his family always dreamed of. Which makes dealing with a dead bride a little difficult.
She's just finished with the young lady when another spook appears. This ghost is quite rude and more than a little chilling. He wants to take La Fi to the other side where she will be his wife and not Thulu's.
As always, the Modern Magic read is clean, interesting, and fun. I am totally enamored of Maer Wilson's characters. Wilson has mastered the prequel and the written word. I like the books in the Modern Magic series because they are not full of sex and raunchiness. They are good stories in and of themselves. They don't need the extracurricular sexiness to bring them to life. They are La Fi and Thulu, spiritual detectives, out to save their world.
Wedding Jitters and Ominous Ghosts by Carol Holland March – 5 out of 5 stars
The Wedding Ghost is another sweet story about La Fi and Thulu, human detectives whose clients are all dead. This book is a prequel to Relics and Portals, the novels in the Modern Magics series.
La Fi has more than the usual bridal jitters. In her lovingly neurotic manner, she stresses over every aspect of the large, formal wedding that her family has planned. A list-maker who is only comfortable when she is firmly in control, La Fi dreams of eloping to Las Vegas with Thulu, the love of her life.
When a ghost comes to visit and decides that he wants to marry her, La Fi senses something ominous afoot, but not until he re-appears at her wedding rehearsal, does he become a threat. Meanwhile, La Fi and Thulu are investigating the death of a young woman who was killed while being fitted for her wedding dress many years before.
This story fills in some of the gaps in La Fi and Thulu's story and is a welcome addition to this series. La Fi and Thulu are endearing characters you can't help but root for.