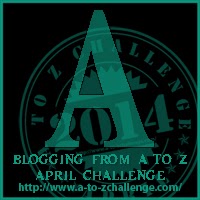 During the month of April you will see a post every day except Sundays as part of the A to Z Blog Challenge. Each day I'll post a topic with that day's letter. Today being April 1st, the letter is "A." The obvious choice for that is "A is for Author."
While I've only been an author myself for the last couple years, I've know many authors in my life. Probably the one who had the most profound effect on me was Philip K. Dick. He is the one who introduced me to sci fi and eventually fantasy. Through him I found a love for the genres that would last my entire life.
There have been many authors in many genres over the years who caught my attention. I couldn't wait to get my hands on their books. From Isaac Asimov to George RR Martin, sci fi and fantasy have been my go-to genres. I appreciate Phil's introduction into those worlds as they have truly shaped my own writing. So here's to the authors who have enlightened, entertained and electrified me!
And be sure to check out the other blogs in this fun challenge! There's something for everyone. A to Z Challenge.