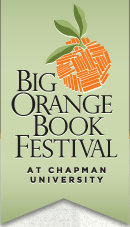 Special Event!
Spells & Chills: Fantasy and Paranormal Panel. That's the very cool name of the panel I'll be on this coming Saturday at 10 AM. Yep, I'll be back in Southern California at the Big Orange Book Festival, hosted by Chapman University. The festival actually takes place over three days, October 11-13, with lots of great authors including Tim Powers, James P. Blaylock, Kim Stanley Robinson and Raymond E. Feist. Best of all, this fabulous festival is FREE!
And it's not just the sci fi/ fantasy crowd. There are some fabulous authors from many other genres including Romance, Mysteries, Thrillers, Non-Fiction and many others.
So, if you're in So Cal, please mark your calendar for this weekend. Oh yeah, and don't forget to stop by my own panel and say hi!