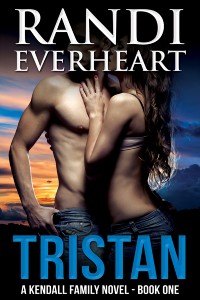 Tristan
Five years ago, Tristan Kendall left home and the woman he loved to prove himself on the sport bike racing circuit.  With his career briefly on hold, he's come to realize everything – and everyone – he ever wanted was right at home all along.  Now he's determined to win back her heart no matter the cost.
But Victoria Lane's been through more than Tristan knows since he broke her heart.  No longer the girl he once knew, she has a life to live, and a heart to give, but only to someone who's planning to stick around.  And she's sure that isn't him.  Can he convince her that she's the only victory lane he wants to put his crotch rocket into?
Pre-order on Amazon

Randi Everheart
Randi Everheart is an avid author of romance, due in part to being a diehard romantic.  After all, Randi once wrote a song for the object of a crush, and even penned a love letter longer than 50 pages! Sadly, neither was enough to win the heart in question, but now the same spirit flows out of a pen (well, a keyboard) and into these stories – hopefully to win your heart!
Randi has a Bachelors of Music in classical guitar, Magna cum Laude, but has always been more of a rocker, having released several albums under another name.  The original college major was composition, but it's even harder to write that when you haven't taken all the classes you need yet.  The switch in majors meant needing to pick up four years of classical guitar skill in the two remaining years of school.  Success in this led to a crippling case of tendonitis in both arms!
That pretty much killed music as a pursuit or a career – for a while.  In the meantime, Randi became a software developer and still ekes out a living that way, co-owning a software consulting firm.  Randi lives in the Maryland suburbs north of D.C., is married, and loves spending time with son Ryan when not writing, playing guitar or golf, or writing smut.
You can follow Randi at these links: