Roy Huff has released the second book in the popular Everville series, Everville: City of Worms. And to celebrate, Roy has two awesome events going on. First up, Everville: The First Pillar will be free to download for your Kindle! Yep! From August 25 to August 29, you can get the first book for FREE. And he's running a ten day sale  starting the same day – today! – You can get Everville: City of Worms for only 99 cents in honor of its debut launch.
Roy is also doing giveaways, which you can find out about here.
Let's find out more about these awesome books!
Everville: The City of Worms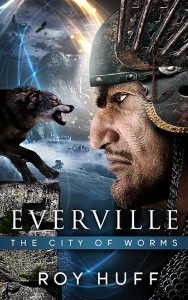 College freshman Owen Sage has just started to understand the darkness that has tried to overtake Everville and the earthly realm. With the help of The Keeper and the Fron army, Owen has managed to buy some time, but new problems have already emerged, new secrets need to be revealed, and the race against time to stop Them from conquering both dimensions has only just begun. The Keeper, Owen Sage, and his friends at Easton Falls University must now battle threats from within. To do it, they must reunite with familiar creatures and join forces with new ones as they navigate their journey to the truth that awaits them in Everville.
You can buy the Kindle version of Everville: The City of Worms
 for $0.99 at Amazon.
 Everville: The First Pillar
Owen Sage is the emblematic college freshman at Easton Falls University. With all the worries about his first year in college, he was not prepared for what would happen next. His way of life was flipped upside down when he mysteriously crossed into another dimension, into the beautiful land of Everville. His excitement was abruptly halted when he discovered that there was a darkness forged against both the natural world, which he knew well, and the new land which he discovered, Everville. He must devise a plan to save both worlds while joining forces with the race of Fron and The Keepers, whom both harbor hidden secrets he must learn in order to gain power over the evil that dwells in The Other In Between. With a race against time to save both worlds, his short time at Easton Falls did not quite prepare him for the evil, dark forces he must fight in order to conquer The Other In Between.
You can download Everville: The First Pillar
 for free from Amazon through August 29th, 2013.
Want to find out more about Roy? You can follow him and get all his news at his website.