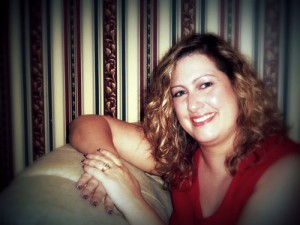 Please welcome Candy Ann Little, with her new novel, Murder of an Oil Heiress. Be sure to check out the info on her giveaway!
About Candy Ann Little
Candy Ann Little grew up in a small town in Ohio. She now resides in Michigan with her husband, two adult kids and 4 cats. She began writing in the aftermath of tragedy – her third child was stillborn. The nurse suggested keeping a journal to cope with the grief. Although she thought it a dumb idea at the time, she soon found a freedom and healing that only writing brought.
Eventually that pain and sorrow turned into her first Inspirational romance, Unforgiving Ghosts. Since then she has finished 2 more inspirational romances. Her historical romance The Unwilling Bride was published in 2011. She has also tried writing in the genre of mystery, including a novella, Death By Broken Heart, and her first full length novel, Murder of an Oil Heiress. Candy Ann finds it therapeutic putting her thoughts into the words and action of her characters. She also finds that discipline is the biggest lesson learned in her writing life.
When she isn't busy writing, you can find her subbing in the public schools, or helping with church activities. Her favorite things to do are reading, cooking, baking and doing crafts.
About Murder of an Oil Heiress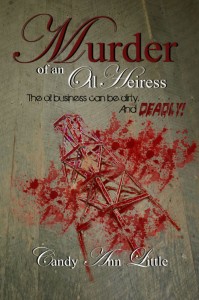 The Texas sun isn't the only thing that is scorching hot. Mallory Dillingham is beautiful, successful and primed to take over the family oil business when her father is ready to retire. However, that isn't soon enough for the billionaire heiress. She wants it all. And, she wants it now. Mallory will stop at nothing to get what she wants, including seduction, lying and blackmail.
Joseph Barnes has stepped into her slippery trap. Can he find a way out before his evil sister-in-law destroys his marriage to Sarah? Will the Dillingham family be able to survive the destruction caused by her devious plot?
Love, betrayal, forgiveness and the bonds of family are all intertwined. This story deals with the complicated lives of the Dillingham family and the people caught in the crossfire. As Mallory wages war on everyone, innocent people pay the price.
 Now let's shine the spotlight on Candy Ann!
Maer:  Thanks for joining us to tell us about your new book, Candy Ann. What is the funniest or oddest thing that has happened to you as an author?
Candy Ann:  The oddest thing is when I tell men I write romance and they offer to show inspiration for my books. I make it clear that my husband gives me all the material I need!!
Maer:   Do you use beta readers and, if so, what qualities do you look for in a beta?
Candy Ann:  I typically don't use beta readers, but I did with this mystery because I'm new to writing this genre. I don't have any qualifications. I just asked on FB if anyone would be interested.
Maer:  What is a one line synopsis for your book?
Candy Ann:  Murder, love, betrayal, forgiveness and the bonds of family are intertwined in this book.
Maer:  Sounds intriguing. Is this a stand-alone or part of a series?
Candy Ann:  Stand- alone.
Maer:  Candy Ann, which character, other than Mallory, is one of your favorites to write and why?
Candy Ann:  That is hard to answer because I love them all. But, if I had to pick one, I'd Maria. Even though she wasn't in the book as much as the others she was fun. She'd blow up and start using Spanish whenever she was angry.
Maer:  If you had to pick a color to describe Mallory what would that be and why?
Candy Ann:  Red. And just because it's the color of blood. 😉 Mallory is intense and very aggressive, she's also passionate so the color suits her. I actually use it a few times in the story.
Maer:  Who are your favorite authors to read?
Candy Ann:  In the mystery genre: Mary Higgins Clark & LeeAnn Sweeney. In romance: Kathleen E. Woodiwiss, Teresa Medireios, Sandra Steffen, and Allison Leigh.
Maer:  Can you share a bit about the project you're working on now?
Candy Ann:  Writing has been very slow the past few years as I've been dealing with a bad back. But I'm trying to work the second novella to my Death By Broken Heart series and a sequel to my historical romance The Unwilling Bride called the Unwanted Bride.
Maer: Great news for your readership! What do you do when you're not writing?
Candy Ann:  I love to cook and bake. I also help with church youth group and other activities. And I'm working for a foreign exchange program.
Maer:  What influenced you to write in your genre? Do you write in others?
Candy Ann:  I write Christian romance and I have a cozy mystery novella. This is my first full length mystery novel.
Maer:  What music, if any, do you like to listen to while writing?
Candy Ann:  No I don't listen to music or have the TV on when writing. I can't concentrate.
Maer:  Thanks so much for joining us to tell us about your new release, Candy Ann. Do you have anything you'd like to add?
Candy Ann:  Thank you for hosting me and my book. God Bless!!
Maer:  My pleasure.
Prizes
 US- TSHIRT and MUG with book cover (only US can win)
INT- $25 Gift Card (anyone can win)
You can buy Murder of an Oil Heiress
 on Amazon.
You can follow Candy Ann at these links: