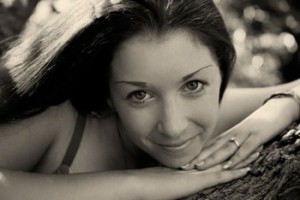 A brand new novella and short story by the fascinating author Ciara Ballintyne is our feature today. Let's find out more about this exciting high fantasy!
About Ciara Ballintyne
Ciara Ballintyne was born in 1981 in Sydney, Australia, where she lives with her husband, two daughters, one masochistic cat, and one cat with a god complex. She holds degrees in law and accounting, and has been a practising financial services lawyer since 2004. She is both an idealist and a cynic.
She started reading epic fantasy at the age of nine, when she kidnapped Castle of Wizardry by David Eddings from her father. Another two years passed before she began her first attempts at the craft of writing. Confronting the Demon is her debut book.
She enjoys horse-riding, and speculation about taking over the world. If she could choose to be anything it would be a dragon, but instead she shares more in common with Dr. Gregory House of House. M.D.
Read on for more about Ciara and her new fantasy novella!
About Confronting the Demon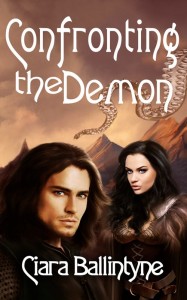 The gates to hell are thrown wide when Alloran is betrayed by his best friend, Ladanyon, and framed for forbidden magic. He is hunted by the guards and the wizards both, tormented by the gruesome murder of his friends and loved ones, and crippled by fear for the living. Now Alloran must face his demons, or damn the woman he loves.
Including bonus short story A Magical Melody
When a lethal spell is stolen from a locked and warded room, Avram must hunt down the thief before the song of power buries a city of innocents beneath a thousand tons of ice.
 Now let's shine the spotlight on Ciara!
Maer:  Thanks for joining us to tell us about your new book, Ciara. let's jump right in, shall we? What is the funniest or oddest thing that has happened to you as an author?
Ciara:  Being mistaken for an erotica author. I have nothing against erotica authors, mind, I'm just not one. People think 'fantasy' is synonymous with 'erotic' because they automatically think 'sexual fantasy'. I've no idea how many people I've disappointed by telling them I write nerdy stuff like Lord of the Rings.
Maer:  LOL. That's a great answer. Do you use beta readers and, if so, what qualities do you look for in a beta?
Ciara:  Always. I know writers who don't, because they either think they don't need one, or their editor will pick up those issues. I subscribe to the theory that I can't see my own mistakes, especially plot holes because I already know what will happen. I don't rely on my editor, because in a publishing house a manuscript goes through several editors, but in self-publishing that's not the case (although I do use more than one editor) and if your editor is already multi-tasking they are more likely to miss things. Plus, I think beta readers are a good test for actual readers.
I do use people I know are into the genre – people who would basically be part of the target audience. There's no point using people who aren't. Some are writers, and some are not. When I use writers, I use ones who are skilled enough to understand the techniques I use, even though I'm not asking them to read as a writer. Newer writers can get distracted trying to learn while reading.
Maer:  You have some excellent points. What is a one line synopsis for your book?
Ciara:  If facing his demons isn't enough, now Alloran must fight to save the woman he loves from hell.
Maer:  Is this a stand-alone or part of a series?
Ciara: I conceived it as a standalone, but now it will be part of at least a four part series.
Maer:  I'm hearing great things about this story, so that's awesome news! Which character, other than Alloran, is one of your favorites to write and why?
Ciara:  Well, being as it's a novella, there's only two characters to choose from! Gisayne is the other, but I'm not especially fond of writing her. In my full-length novels, this would be a much harder question.
Maer:   If you had to pick a color to describe Alloran what would that be and why?
Ciara:  Blue. Alloran is a very cool type of character, and he doesn't do well when put on the spot or forced into violent situations. He's not typically aggressive.
Maer:  Who are your favorite authors to read?
Ciara:  Robert Jordan, Terry Goodkind, Terry Pratchett and Brent Weeks. More recently I've developed a real love for Jacqueline Carey, and my most recent interest is Michael J Martinez.
Maer:  Fun list with some of my own faves in there. Can you share a bit about the project you're working on now?
Ciara:  I've just plotted In the Company of the Dead, a full-length adult fantasy novel. Lyram is down on his luck, exiled to a remote castle by his king after losing the plot following hi wife's gruesome murder. He is second in line for the throne after the prince, and he thinks the prince wants him dead, but no one believes him. When the castle is besieged he is convinced it is a plot to have him killed. When a battle priestess of the death goddess turns up to help save them, life gets very complicated as Lyram starts to realize he is falling in love with this forbidden woman.
Maer:  Sounds intriguing! So, tell us, Ciara, what do you do when you're not writing?
Ciara:  I assume you mean the time I have left after children and full-time work, ha ha. There's not much of it, and most of it is writing. I read, of course. I watch certain TV shows with my husband, because he prefers stories in a visual format. Very occasionally I get to ride horses.
Maer:  Yeah, I figured you would have an busy schedule. 🙂 What influenced you to write in your genre? Do you write in others?
Ciara:  When I started reading when I was eight, I started with mysteries and adventures. By the time I was nine, I had discovered fantasy, and that's when I voraciously started reading. I do still read outside the genre, but fantasy, epic/high fantasy in particular, is where my heart is. This is my passion, so no, I don't write in other genres. I've never had an idea that wasn't fantasy, and I have enough fantasy ideas to keep me busy. I may have a co-writing fiction project in the works, and it's not high fantasy, but it's probably still speculative fiction.
Maer:  What music, if any, do you like to listen to while writing?
Ciara:  I don't. I can't concentrate. I want to sing, and you can't sing and write at the same time. I do listen to music while I plot, though, and it doesn't matter what – anything I enjoy serves to disconnect my brain and get the creativity pumping. I listen to country music by preference.
Maer:  Ciara, thanks so much for stopping by today and sharing with us. Do you have anything you'd like to add?
Ciara:  Thanks for hosting me, thanks to The Finishing Fairies for organising everything, thanks to everyone who supported me, read early drafts of the book, or just listened to me whinge, and thanks to the readers and reviewers.
Did I mention in my other life I write award acceptance speeches? 😉
Maer:  Sounds fun. 🙂
Ciara's Giveaway!
Win a $25 Amazon Gift Card
You can find Confronting the Demon
at Amazon, Barnes & Noble, iTunes, and Kobo.
You can find Ciara at the following links:
Check out the entire tour for Confronting the Demon at the Finishing Fairies' website!