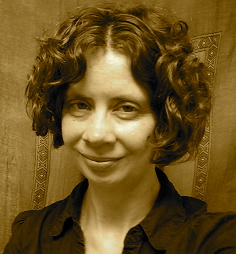 Today, it's exciting to welcome the gifted writer, Cindy Young-Turner, to "In the Spotlight".  Her debut novel, Thief of Hope, is a tightly written, fast-paced read, which I thoroughly enjoyed. I pretty much blew through it, turning pages on my Kindle as quickly as I could. The characters were fun and I loved her heroine, Sydney.
Cindy Young-Turner has always been an avid reader and became fascinated by mythology and Arthurian legends at an early age. She quickly decided she enjoyed creating her own worlds and characters and set to work writing her own stories.
She believes genre fiction can be just as well written and valuable as literature. The universal themes of love, hate, revenge, and redemption are present regardless of whether the characters live in the distant future, on other planets, or in fantastical realms.
Read more about her at http://www.cindyyoungturner.com.
More on Cindy and Thief of Hope…
Thief of Hope
Sydney, a street urchin and pickpocket in the town of Last Hope, has managed to evade the oppressive Guild for years, but there is no escaping fate when she's sentenced to death for associating with the resistance.
After she's rescued by a wizard, Sydney is forced to accept that magic-long outlawed throughout the Kingdom of Thanumor-still exists, and the Tuatha, a powerful faery folk, are much more than ancient myth and legend. When the wizard offers a chance to fight the Guild and bring Willem, bastard prince and champion of the Tuatha, to the throne, Sydney embraces the cause as a way to find her own redemption.
But Sydney's fear of the Guild, distrust of authority, and surprising connection to the Tuatha threaten Willem's success. Can she untangle the strange threads that entwine her life not only to the fate of the kingdom, but also to Willem himself?
And now on to Cindy's interview!
Maer:  Cindy, thanks so very much for joining us today to talk about THIEF OF HOPE. Where did you get the inspiration to write it?
Cindy:  Oliver Twist gave me a fondness for pickpockets. Actually, I like the movie version Oliver! better than the book because the pickpockets have a much happier ending in the movie. I'm also really interested in social change and how that comes about, and this idea became an important element of the book.
Maer:  Could you please give us a one line synopsis for your book?
Cindy:  A pickpocket becomes entangled with the commoners' fight against an oppressive society, a would-be king's bid for the throne, and the strange and dangerous magic of the faery folk.
Maer: Is Thief of Hope a stand-alone or part of a series?
Cindy:  Part of a series. I'm working on the second book now. I'm thinking there will probably be a third as well.
Maer: I'm really glad to hear that. I'm waiting to read more about Sydney and her friends. So many great characters in your novel. Which character other than Sydney is one of your favorites to write and why?
Cindy: This is a hard one. It's like asking a parent to choose her favorite child! I really do like all of my characters, even the villains. One who was interesting to write was Zared. I don't think you ever really know his motives. He's either a selfish scumbag or someone who is struggling like Sydney to get out of a bad situation. You'll have to read it and decide for yourself.
Maer:  Yeah, I can sympathize how tough it is to pick only one, but I think Zared is a fascinating character and a great choice. If you had to pick a color to describe Sydney what would that be and why?
Cindy:  I think Sydney would be gray. She prefers to stay in the shadows. Except you find out that shadows take on a different meaning in Thief of Hope.
Maer:  Oh, yeah, they do! Cindy, most writers are also voracious readers. Who are your favorite authors?
Cindy:  There are so many, it's hard to pick favorites, but here are a few: Ray Bradbury, Neil Gaiman, Diana Gabaldon, JRR Tolkien, Ursula K LeGuin.
Maer:  Could you share a bit about your current project?
Cindy:  I'm currently working on Thief of Destiny, which is the sequel to Thief of Hope. This story expands the scope quite a bit. Sydney faces bigger problems and meets some interesting new people. As she experiences more, a lot of the things she believes are turned upside down. Part of her challenge is adjusting her views based on what she's learned. The book also has some chapters from Willem's point of view. It's been fun to write and honestly I'm not exactly sure how it's going to end yet.
Maer: That sounds like how I write. Turning away form books for a moment, what do you do when you're not writing?
Cindy:  Work (I coordinate proposals for international health and development projects), chase after my almost five year old, and occasionally sleep.
Maer: I have tremendous admiration for authors with full-time jobs and families to juggle around their writing. It's fascinating how they manage everything and turn out awesome books like yours. Cindy, what influenced you to write in your genre? Do you ever write in others?
Cindy:  I loved reading about King Arthur when I was a kid. That inspired a love of knights and magic and all things medieval. I have written some SF stuff, a really bad YA novel, and a bad vampire novel from a looooong time ago. I'm not sure any of it will ever see the light of day, but who knows. First I have to finish my current series.
Maer:  Cindy, again thank you so very much for taking the time out of your busy schedule to be with us today. Do you have anything you'd like to add?
Cindy:  Just thank you, Maer, for your support! One of my favorite things about Crescent Moon Press is that the authors are so supportive and helpful. I can't wait to read your book when it comes out!
Cindy, thank you again for such a fun interview. I can highly recommend Thief of Hope and wish you the best of luck and every success on your series.
Want to add Thief of Hope
 to your book collection? You can find it at Amazon or through retailers at Goodreads. And you can find Cindy at the links below: