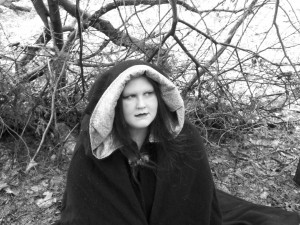 Meet my friend, Danielle DeVor, author of Tail of the Devil. Danielle is loads of fun, quirky and just an all around awesome person to know. Her edgy Young Adult novel debuted recently through Eirelander Publishing. Come with me as we learn more about Danielle and her new book!
About Danielle DeVor
Danielle is a good ol' red-blooded gal who'll dance her way into your veins heart and never let you go. Make sure your affairs are in order before you embark on one with her characters. You'll never… live… to regret it.
Read on for more about Danielle and Tail of the Devil.
About Tail of the Devil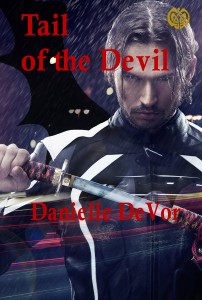 If Mathias thought being homeless sucked, being a vampire is worse. The vampires who transformed him believe he is the reincarnation of an ancient king. They expect him to quit swearing, use a napkin, and play by their weird,
ancient rules. Screw that.
But after the reigning queen assaults Mathias, he has visions of a past life in which he was that king. Turns out the current queen killed him then, and wants to kill him again. He'd better grow up fast, because if he doesn't his second life may be shorter than his first.
Now let's shine the spotlight on Danielle!
Maer:  Thanks for joining us to tell us about your new book, Danielle. Where did the idea come from?
Danielle:  I supposed I've always been inspired to write a vampire book. Mathias, however, popped into my head one day when I had the flu.
Maer:  What is a one line synopsis for your book?
Danielle:  A street-kid gets turned into a vampire only to discover that he's the reincarnation of a long-lost vampire king.
Maer: Is this a stand-alone or can we look forward to more about Mathias?
Danielle:  It was originally planned as a stand-alone, but I've been given the green-light to make it into a series.
Maer:  That's awesome news! Which character other than Mathias is one of your favorites to write and why?
Danielle:  Nossy is a blast, honestly. It's very freeing to be as bizarre and goofy as you like without having to worry about what someone would think of you. He has that type of personality.
Maer:  Now, if you had to pick a color to describe Mathias what would that be and why?
Danielle:  Red. Mathias is in pain for most of the book, be it internal or physical. Plus, because he dies in a bloody way and must feed on blood, red is fitting.
Maer:  Yes, I can see that. Who are your favorite authors to read?
Danielle:  This is a really hard question, honestly. Right now? Definitely Jim Butcher, Suzanne Collins, Kim Harrison, and Richard Matheson.
Maer:  I'd be hard=pressed to narrow it down, too! Can you share a bit about your current project?
Danielle:  I'm working on the sequel to the book I have coming out on October 15, 2013. That book, Sorrow's Point, is about a defrocked priest who ends up doing an exorcism on a six-year-old girl. The sequel deals with his exploits in the town of Tombstone, Arizona.
Maer:  What do you do when you're not writing?
Danielle:  Read, a lot. I also crochet, help people learn to fit pointe shoes, and I watch a lot of movies.
Maer:  I've seen pictures of your crocheting and it's great. Turning back to your writing, what influenced you to write in your genre? Do you write in others?
Danielle:  Fantasy and horror is pretty much what I know. I've grown up on Stephen King, Lovecraft, and Matheson. My goal, one day, is to write something that scares me. I have a YA paranormal romance coming from Eirelander Publishing in 2014, I've written a YA thriller, and I plan on writing a Historial fiction piece that is going to take me at least 2 years to research.
Maer:  Lots of exciting things going on! What music, if any, do you like to listen to while writing?
Danielle:  I can't listen to music while I do the first draft. Afterwards, it is okay, but I find that music distracts me.
Maer:  Thanks again for joining us today. Do you have anything you'd like to add?
Danielle:  It was a pleasure to be on your blog and I love Mythbehaving!
Maer:  Thanks for saying that! The podcast is fun to do and we are looking forward to your visit in July!
You can pick up Tail of the Devil
 at Amazon and Barnes & Noble. It will be released on Barnes and Noble Nook, but it hasn't posted yet. So keep your eyes open for it. 🙂
You can find Danielle at the following links: