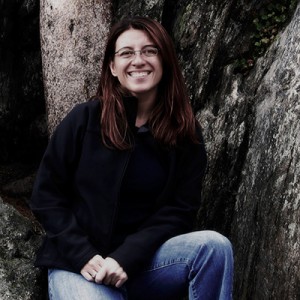 GS Jennsen
is

It's a pleasure to welcome author GS Jennsen into the spotlight today. GS is a gamer and we actually belong to the same gaming guild. So getting to feature her on my blog is cool not only because she's an awesome writer, but because she's a guildmate, too!

When she was two years old, GS Jennsen informed her parents that she would be learning to read now. When she was four, she brought the dinner-table conversation to a screeching halt by inquiring as to what they knew about the nature of infinity.
The rest is history. A long, convoluted history that wound across the United States and back again—and back again—through a shocking variety of windowless libraries, windowless corporate boardrooms and windowless engineering labs.
She has been a corporate attorney, software developer, freelance editor and author (she finds she prefers the latter). She currently lives in Colorado with her husband and best friend (they're the same person), who works as an electrical engineer, and their two furry, four-legged children.
There are many windows in her home, half of which look out on the Rocky Mountains.
Starshine is her first novel.
Read on for more about G.S. and Starshine!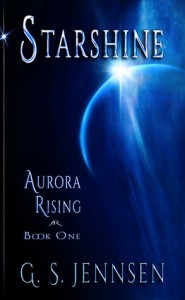 Space is vast and untamed, and it holds many secrets. Now two individuals from opposite ends of settled space are on a collision course with the darkest of those secrets, even as the world threatens to explode around them.
The year is 2322.
Humanity has expanded into the stars, inhabiting over 100 worlds across a third of the galaxy. Though thriving as never before, they have discovered neither alien life nor the key to utopia. Earth struggles to retain authority over far-flung planets and free-wheeling corporations while an uneasy armistice with a breakaway federation hangs by a thread as the former rebels rise in wealth and power.
Alexis Solovy is Earth Alliance royalty, her father a fallen war hero and her mother an influential military leader. But she seeks only the freedom of space and has made a fortune by reading the patterns in the chaos to discover the hidden wonders of the stars.
Nothing about her latest objective suggests the secret it conceals will turn her life— not to mention the entire galaxy—upside down. But a chance encounter with a mysterious spy leads to a discovery which will thrust Alex into the middle of a galactic power struggle and a sinister conspiracy, whether she likes it or not.
When faced with its greatest challenge, will humanity rise to triumph, or fall to ruin?
Aurora Rising is an epic tale of galaxy-spanning adventure, of the thrill of discovery and the unquenchable desire to reach ever farther into the unknown. It's a tale of humanity at its best and worst, of love and loss, of fear and heroism. It's the story of a woman who sought the stars and found more than anyone imagined possible.
Now let's shine the spotlight on G.S.!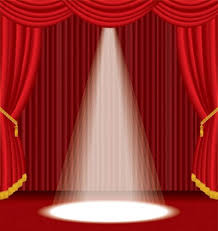 Maer:  Thanks for joining us to tell us about your new book. What is the funniest or oddest thing that has happened to you as an author?
GS:  My father is a voracious reader and was very interested in my writing, so I gave him a late draft of Starshine to read. My father is also very conservative, and the book contains an "intimate encounter" near the end. It's not overly explicit, but it's definitely not a "fade to black." So at the beginning of the chapter in question I wrote in big red letters: "This chapter contains SEX. You do NOT have to read. Skip to [page]."
He loved the book and we chatted about it in depth, but he never brought up that chapter, and I assumed he had not read it. Flash forward to 3 weeks after publication. My husband and I take a quick trip to visit my family. While we're there they throw a birthday dinner for my cousin; everyone's there – grandparents, aunts, uncles, cousins. My father starts talking to his sister about the book, tells her she'll love the fiery heroine and such. Then he says – at the dinner table, in full hearing of everyone – "and you'll really love this part – there's one heck of a steamy sex scene in it."
Conversation comes to a screeching halt as my eyes go wide and I stare at him in horror. "How do you know it's steamy? I told you to skip that!" And he says, "Oh, come on, telling me to skip it was like waving a red sheet in front of a bull or saying 'YOU HAVE TO READ THIS.' How could I possibly skip it?"
I was, needless to say, mortified. But he was laughing, so I suppose it was all good :).
Maer:  That's a wonderful story! Do you use beta readers and, if so, what qualities do you look for in a beta?
GS:  Not in the traditional sense. My husband is my first editor (and co-conspirator in all things), and though he knows the plot and characters, he doesn't get to read a draft until it's at a very advanced stage, after I've done several editing passes. For Starshine, once the book was ready except for a final proofreading pass, I sent it to three people close to me for extra proofreading and so they could yell and wave their hands if something didn't make any sense.
Maer:  What is a one line synopsis for your book?
GS:  A starship pilot and a spy from opposing worlds must convince others the danger from a mysterious alien armada is far greater than the war they have been tricked into fighting against one another.
This is the first time I've gotten to use that. Thanks!
Maer:  Is this a stand-alone or part of a series?
GS:  Starshine is Book One of a trilogy, Aurora Rising.
Maer:  Which character, other than Alexis, is one of your favorites to write and why?
GS:  Wow, that's a tough one; Starshine is full of quirky characters. Other than Alex or Caleb? Probably Noah Terrage. He's an easy-going, fun-loving guy who's too smart for his own good and has a way of finding trouble. He has an interesting backstory—he's a clone of his father, who is a wealthy businessman on one of the colonies, and was "born" to serve as his father's protégé. Instead he ran away from home when he was fifteen and became a tech trader and smuggler. He claims to want no responsibilities, to just have a good time and party the nights away, but he has a powerful sense of right and wrong and a conscience that's always forcing him to do the right thing.
Maer:  Sounds like a fun character. If you had to pick a color to describe Alexis what would that be and why?
GS:  Silver, definitely. It's the color of her eyes, and the color of the stars outside the viewport of her ship she loves so much.
Maer:  Who are your favorite authors to read?
GS:  In sci-fi, my favorites are probably Peter F. Hamilton, Alastair Reynolds and Vernor Vinge (and Isaac Asimov's Foundation series will always be a sentimental favorite). In fantasy I love Terry Goodkind, Sara Douglass and Elizabeth Haydon. Prod me and the lists will get a lot longer, though.
Maer:  Can you share a bit about the project you're working on now?
GS:  Right now I am neck-deep in Aurora Rising Book Two, Vertigo. The response to Starshine has been amazing and humbling, but for reasons I shouldn't go into here (spoilers!), when readers finish the book they tend to be looking for Book Two ASAP. I want to oblige them as quickly as I can, before I get run out of town by an angry mob.
Maer:  What do you do when you're not writing?
GS:  I'm an avid PC gamer; my husband and I have played MMOs together for years (currently Elder Scrolls Online, SWTOR and EVE Online). I'm also a huge fan of RPGs (especially Bioware games – the Mass Effect trilogy is my favorite game series ever) and action/adventure games (Tomb Raider, Remember Me, Uncharted, etc.).
I also dabble in creating spacescapes in Photoshop and do manipulations of game screenshots. And of course, I read a lot.
Maer:  I knew about the gaming. 🙂 What influenced you to write in your genre? Do you write in others?
GS:  I can't imagine ever writing in another genre other than science fiction. When I was young I wanted to be an astrophysicist; I have always loved astronomy. I play space video games, create art of space, have space pics as my computer wallpaper and write about space. I consider myself a futurist and am just waiting around for the singularity (the good version) to hurry up and get here so we can start exploring the universe.
Maer:  What music, if any, do you like to listen to while writing?
GS:  My husband is a music aficionado and we have an extensive music collection, so I have quite a few choices. I've created a "favorites" playlist of around 2,000 songs that is my go-to background music, and it's very diverse – it includes everything from mainstream rock to classical to Texas country to 70s acoustic to Broadway musicals. That said, a few months ago I posted the core Starshine playlist on my blog, and it consisted of Two Steps from Hell, Muse, Snow Patrol, Linkin Park and Foo Fighters.
Maer:  Ah, I love to write to Two Steps from Hell. Great list. G.S., thanks again for stopping by and for a great interview. Do you have anything you'd like to add?
GS:  Starshine is my first novel and I'm learning as I go, just trying to pick up things as fast I can and note lessons for the next book. I can say that my life has changed in so many wonderful ways since I began this endeavor, and I owe a lot of that to the family, friends and readers who have supported me. Starshine is already more successful than I ever dared dream it could be, and I'm grateful for every day in which someone new reads it and loves it.
On that note, I love hearing from readers. No, really. I know everyone says that but I really DO love it. Don't be afraid to reach out – it makes my day. Feel free to email me or contact me on Twitter, Facebook, Google+ or Goodreads. Links are at the top of my website.
Thanks so much for having me on your blog, Maer.
Maer:  It was my pleasure! I'm looking forward to reading your book! Best of luck to you.
You can buy Starshine at these online retailers:
iTunes
You can find G. S. at these links: