Hunter S. Jones
Today's featured author is Hunter S. Jones with her newest short story, Fortune Calling. Let's find out more about her.

Hunter in her own words: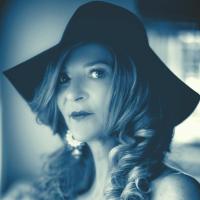 The art form I create when writing is much more interesting than anything you will ever know or learn about me. However, since you ask, I have lived in Tennessee and Georgia my entire life, except for one "lost summer" spent in Los Angeles. I was always a complex kid. My first published stories were for a local underground rock publication in Nashville. Since then, I have published articles on music, fashion, art, travel and history.
Currently, I have a music/entertainment blog @ExPatsPost.com. My debut novella, Fables of the Reconstruction, was published in 2012. I have a series of sexy vignettes on Amazon called Tales from a New Amsterdam. Moon Rose Publishing included my novella, Magic in Memphis, in their anthology, A Celtic Tapestry in March 2013. Magic in Memphis is currently available as a short story on Amazon.
Edgar Allan Poe and Anne Rice have always fascinated me, although like any Southern girl, I will always idolize Margaret Mitchell for writing Gone With The Wind. I also adore the works of John Grisham, and own a huge selection of his books. I live in Midtown Atlanta, Georgia with my husband, my books, too many clothes, too many shoes and way too many stacks of notepads and journals.
Read on for more about Hunter and her newest story.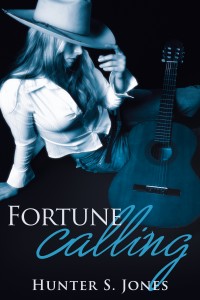 Dallas Fortune is a small town girl with a gift for playing guitar. A member of her family has played the Grand Ol Opry since it began as a simple radio show in 1925. But, they are the minstrels, the troubadours–session players–not stars.
Dallas lives her life on the road. She's just another guitar player with a dream until she finds an antique blue mandolin in a pawn shop. Her life comes into focus as the enchantment of the mandolin captivates her audiences. The Guitar God of Nashville beckons her. Everything is there for Dallas at last, until a stage accident sends her home and shatters her dreams. Blow after blow she fights the hand of fate. Is she destined to lose out in life? Hope, dreams, and love seem to be just out of reach. Every girl dreams of a happy ending. Dallas Fortune has the best Fairy Godmother in Country Music history. Will she help make Dallas' dreams come true?
Is the future among the stars, in the cards or locked in your heart?
Fortune Calling is the first story in The Fortune Series. Set in contemporary Nashville and rural Tennessee, the series chronicles the life and loves of Dallas Fortune.
Now let's shine the spotlight on Hunter!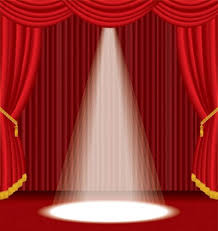 Maer:  Welcome to the spotlight and thanks for joining us today, Hunter. Do you use beta readers and, if so, what qualities do you look for in a beta?
Hunter:  Yes, I use two main betas, one is a reader, the other a writer. I take their advice, usually, since they see the story from two different perspectives.
Maer:  What is a one line synopsis for your story?
Hunter:  Is the future among the stars, in the cards or locked in your heart?
Maer:  Is this a stand-alone or part of a series?
Hunter:  This is the first installment in The Fortune Series. The Story of Dallas Fortune. I am planning on writing three installments for the series. All three will be short stories or novelettes.
Maer:  Sounds like fun! Which character, other than Dallas, is one of your favorites to write and why?
Hunter:  Ernesto Lorenze. He wrote himself. I knew what he looked like, how he spoke, how tall he is … everything. He is fantastic!
Maer:  If you had to pick a color to describe Dallas what would that be and why?
Hunter:  Blue. Shades of blue. She is a guitar player who suffers an accident. She has to re-learn how to play guitar and mandolin. She moves back to her family farm in rural Tennessee. Do you need more?
Maer:  Who are your favorite authors to read?
Hunter:  Thousands of authors, simply thousands. Right now, I am reading an Alison Weir's book, Elizabeth of York. The history books clear my mind, somehow. I always read one before I start a new project.
Maer:  What a great idea! Can you share a bit about the project you're working on now?
Hunter:  It's a story of making your way in the world. Of finding out who you are and the people you need to surround yourself with, due to the positive influence.
Maer:  What do you do when you're not writing?
Hunter: Working out, shopping, love to travel. Good conversation over a great glass of red wine is a favorite.
Maer:  What influenced you to write in your genre? Do you write in others?
Hunter:  My genre is Fiction. The story finds me, whether it is horror, erotic, or romantic. I never know what I will write about until the story finds me.
Maer:  What music, if any, do you like to listen to while writing?
Hunter:  No music while writing. It's just brain overload and I cannot focus. Music before I write gives me a sense of the rhythm of the words, the flow of the story line. Each story has had its own theme song. For instance, Fortune Calling has the feel of an old Dwight Yoakum song called Guitars, Cadillacs ETC. ETC,
Maer:  Thanks again for stopping by today. Do you have anything you'd like to add?
Hunter:  Thank you very much for featuring me today. I have greatly enjoyed working with you. And a very special Thank You to my readers and supporters. They are the best. They have such a good positive energy. They mean a lot.
You can find Fortune Calling: The Story of Dallas Fortune. (The Fortune Series)
 at Amazon.
And you can follow Hunter at these links: