Jennifer Adele
Today it is a great pleasure to welcome Jennifer Adele to the spotlight.
Jennifer Adele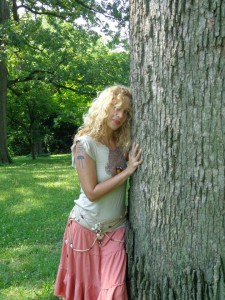 Jennifer Adele is an independent author and nature gal, whose sense of adventure is only matched by her predilection for the magical and macabre. Her love of the written word in its various forms and her fascination with the symbolism inherent in all languages provides an ancient, deep, and eclectic background to her works. She is also an active lecturer and educator for many local groups and public education venues. Her written works on broad-based educational topics, plants, animals, symbolism, and a wide range of nature-based subjects, as well as her creative writings and fiction, have been frequently featured in national and international publications.
On a more personal note, Jennifer is mom to two dogs and three cats and greatly enjoys nature hikes, organic art, photography, cooking, painting, wild crafting, and travel.
Read on for more about Jennifer and Spellbound!

Spellbound
"We always think we will have more time… and then it runs out…"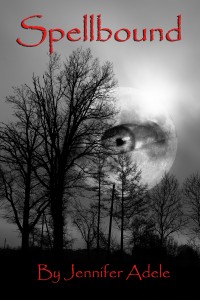 Vera Norton is only a young girl when her ancient friend and neighbor, Lillian Thompson, dies, leaving her emotionally wounded and incredibly vulnerable. With little parental supervision and a brother who couldn't be more opposite of her in every way, Vera is left reeling and spending a lot of time with the one permanent figure in her life, a large oak tree at the center of the Thompson gardens, a tree that is at the epicenter of Vera's world. However, when Lillian's strange sister, Elizabeth, moves into the Thompson house next door and takes over the property, the curious and horrific really take hold. This then catapults Vera into an adult life of magic and mystery, love and dangerous obsession, ghostly encounters and supernatural apparitions, curses and spells.
Can Vera reclaim the life she knew and the tree she loved, an odd tree that is central to her existence? Can Vera override a Fate that stalks her and stares at her with red ember eyes, a Fate that seems determined to destroy her? Can a curse be broken and age-old spells unbound?…
 Now let's shine the spotlight on Jennifer!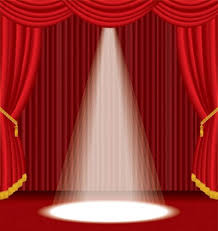 Maer:  Thanks for joining us to tell us about your new book, Jennifer. What is the funniest or oddest thing that has happened to you as an author?
Jennifer:  I ended up running around barefoot at my first book signing because I wore a pair of shoes that were very uncomfortable. I think I made it about 2 hours into the event before they had to come off… and the signing was in January. My feet were freezing!
Maer:  Do you use beta readers and, if so, what qualities do you look for in a beta?
Jennifer:  I do use beta readers, yes. I tend to look for people who don't care if they hurt my feelings. I want someone who cares about the quality of the book more than they care about a potential author reaction to critical feedback.
Maer:  What is a one line synopsis for your book?
Jennifer:  A paranormal romance and super-charged ghost story like you've never read before!
Maer:  Is this a stand-alone or part of a series?
Jennifer:  It is a stand-alone piece.
Maer:  Which character, other than Vera, is one of your favorites to write and why?
Jennifer:  Isaac, my male protagonist's best friend, was my absolute favorite in this book. He's very mystical and spiritual… and I got to model him off of someone I greatly respect in my everyday life.
Maer:  If you had to pick a color to describe Vera what would that be and why?
Jennifer:  Soft gray. My main female character, Vera, is very feminine and always caught in-between.
Maer:  Who are your favorite authors to read?
Jennifer:  Alice Hoffman and James Howe.
Maer:  Can you share a bit about the project you're working on now?
Jennifer:  I'm currently working on my third novel, The Bone Gatherer. This is a story that will break a ton of barriers, as my main male protagonist twists the magical and the macabre to a point that throws readers straight into the proverbial mouth of madness! I want to go too far with this book to take readers on a ride they've never experienced before. It is a story of terror, a story of attachments, and a story about the cycles of life and death…
Maer:  Sounds intriguing! Can't wait to read it. What do you do when you're not writing?
Jennifer:  Nature hikes are my favorite thing to do when I'm not enveloped in my writing and author activities. I love being outside and connecting with Nature.
Maer:  What influenced you to write in your genre? Do you write in others?
Jennifer:  I've always been intrigued by horror and the paranormal, so I just followed what I liked and wrote about it, adding in my own blending of the magical with the macabre… I'd have to say I'm a bit of horror meets fantasy.
Maer:  What music, if any, do you like to listen to while writing?
Jennifer:  I actually prefer white noise when I write. I always have a box fan going.
Maer:  Jennifer, thanks so very much for stopping by today. Do you have anything you'd like to add?
Jennifer:  I have a brand new blog up, "The Feathered Quill," that caters to new and indie authors here:
http://jennifersfeatheredquill.blogspot.com/
And, I have a FREE e-newsletter, "Snippets," that goes out once a month and is brand new as well… and sign up for that is available on my author website at www.jenniferadele.com
You can buy Spellbound
 at Amazon.
You can find Jennifer at these links:
Jennifer on Facebook
Jennifer on Google+
Jennifer on LinkedIn
Jennifer on Pinterest
Jennifer on Twitter