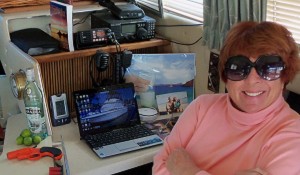 Jinx Schwartz is our special guest today and she's going to chat with us about Book 5 in the Hetta Coffey series, Just the Pits. So sit back and enjoy reading about this awesome author!
About Jinx Schwartz
Raised in the jungles of Haiti and Thailand, with returns to Texas in-between, Jinx followed in her father's steel-toed footsteps into the construction and engineering industry in hopes of building dams. Finding all the good rivers taken, she "traveled the world defacing other landscapes with mega-projects in Alaska, Japan, New Zealand, Puerto Rico and Mexico."
Like the protagonist in her mystery series, Hetta Coffey, Jinx was a single woman with a yacht—and she wasn't afraid to use it—when she met her husband, "Mad Dog" Schwartz. They opted to become cash-poor cruisers rather than continue chasing the rat, sailed under the Golden Gate Bridge, turned left and headed for Mexico. They now divide their time between Arizona and Mexico's Sea of Cortez.
Join me for more about the fascinating Jinx and her recent novel!

About Just the Pits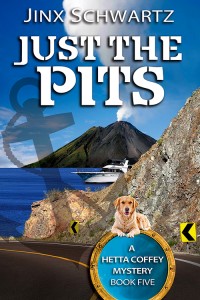 Hetta Coffey is a sassy Texan with a snazzy yacht, and she's not afraid to use it!
As a self-employed engineering consultant with a penchant for oddball—read: shady—projects, Hetta Coffey has a history of inviting trouble.
But now that she's been hired for a legitimate mining project in Mexico's Baja, it looks like smooth sailing ahead…until she discovers that people and pesos are disappearing faster than you can say, "This job is the pits!"
And Hetta Coffey as sleuth? Goodness knows she's nosy enough, but her detective skills leave a lot to be desired. Luckily for her she gets help from her best friend, Jan, and a mysterious Velveeta thief.
Now let's shine the spotlight on Jinx!
Maer:  Thanks for joining us to tell us about Just the Pits. This sounds like such a fun series. Where did the inspiration for your book come from?
Jinx:  Mexico's Sea of Cortez. We have lived part time there for many years, and I am still enamoured with the Sea and Baja California. Through my protagonist, Hetta Coffey, I like to tell a tale and also share Baja's mystique.
Maer:  How fun! What is a one line synopsis for your book?
Jinx:  Hetta Coffey is a sassy Texan with a snazzy yacht and she's not afraid to use it, but she soon finds that her new job in Mexico's Baja is just the pits.
Maer:  Which character other than Hetta is one of your favorites to write and why?
Jinx:  Perhaps Craig Washington, a black, gay veterinarian who steals your heart.
Maer:  If you had to pick a color to describe Hetta what would that be and why?
Jinx:  Have to be RED!
Maer:  Who are your favorite authors to read?
Jinx:  I love Larry McMurtry, Vince Flynn (RIP, Vince), Clive Cussler, Lee Child and so many others I cannot name them. I love to read and am now enjoying fellow author-newbies like me.
Maer:  Can you share a bit about your current project?
Jinx:  Have barely started Hetta #6, and since Just the Pits was recently released I'm in recovery.
Maer:  I can sympathize with that. What do you do when you're not writing?
Jinx:  Zumba, walking, boating…and a lot of time marketing!
Maer:  What influenced you to write in your genre? Do you write in others?
Jinx:  I like zippy beach reads and figured my style fit that genre: Humorous Mystery. And yes, I have a YA, a Historical/Western and an Adventure/Thriller.
Maer:  Wow, lots of variety there! What music, if any, do you like to listen to while writing?
Jinx:  I'm partial to Willie Nelson and Edith Piaf. They should do a duo!
Maer:  Thank you for joining us today, Jinx. Do you have anything you'd like to add?
Jinx:  Just that I appreciate being invited to share my thoughts and book here with you.
Maer:  It was totally my pleasure, Jinx. Thanks again.
You can buy Just The Pits (Hetta Coffey Series 5)
 and the rest of Jinx's fun series at Amazon.
You can find Jinx at the following links: