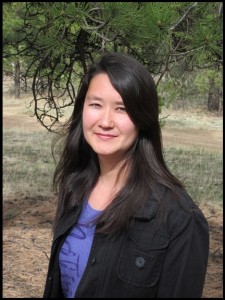 Yay, Jody A. Kessler has stopped by to chat today! I recently had the pleasure of reading her debut novel, Death Lies Between Us. Intriguing premise, interesting characters and a story that kept me guessing, also managed to keep me awake turning those pages! Or rather flicking the pages on my Kindle. Her New Adult novel gives a fascinating and very different spin on the Angel of Death. It's exciting to have her in today's spotlight!
Jody enjoys writing paranormal novels and is a member of Pikes Peak Writers. She is a yoga instructor, Reiki Master, and a graduate from the Colorado Institute of Massage Therapy. When she took an extended leave from her massage practice to stay at home with her newborn she returned to her first true passion —writing. She spends most of her time being a mother, writing, and teaching yoga, but also likes going to concerts, hiking, practicing herbal medicine, and reading anything that catches her interest. Jody lives in the mountains of Colorado with her family.
For more about Jody and her new book, please read on!
About Death Lies Between Us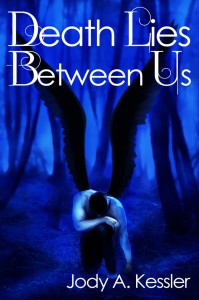 Saving the life of someone you love should not be the worst thing you have ever done, unless you are an Angel of Death.
Disgruntled with his position in the afterlife and conflicted by his feelings toward his new client, Nathaniel Evans forgoes the rules and saves nineteen year old Juliana Crowson from being hopelessly stuck in Forge Creek. This alters Juliana's destiny and she finds herself in a series of near death accidents.
In the mountains of Colorado, Nathaniel comforts Juliana as she struggles to understand her paranormal abilities while coping with her brother's drug addiction. When an ill-tempered Native American Shaman teaches her the difference between ghosts and place memories, she decides she wants nothing to do with the supernatural world. Too bad she doesn't know that Nathaniel is part of it.
Will fate bring these two together, or has Nathaniel made the biggest mistake of his afterlife?
Now let's shine the spotlight on Jody!
Maer:  Your premise is so different, Jody, where did the inspiration come from?
Jody:  One day I was taking care of my toddler and the next I was writing a story during his nap. Every day since, I have been totally engrossed in all aspects of writing novels. I scrapped the first story I was working on when Death Lies Between Us came to me. I was lying in bed one morning, unwilling to leave the warmth and the quiet, and the ideas for the book started flowing. I've been working on the series ever since. That was about three years ago.
Maer:  What is a one line synopsis for your book?
Jody:  A discontented Angel of Death risks his eternal soul to save the life of his newest client instead of escorting her to the afterlife.
Maer:  Your characters were fascinating and I'd love to read more about them. Will your readers get that chance?
Jody:  Death Lies Between Us is definitely the beginning of a series. For those who haven't read it, I won't give away anything, but the end of the novel leaves one plot point wide open. Death Lies is the first book in the series, An Angel Falls.
Maer:  Hmmm…intriguing title for Book 2! Turning back to DLBU, which character other than Juliana is one of your favorites to write and why?
Jody:  Chris Abeyta, the ghost hunter and shaman, is a favorite for sure. He's wise and thoughtful, but extremely temperamental and has a hard time being around people. He tends to be very serious, but every once in a while he relaxes and let's his sense of humor shine through. Chris gets to practice Native American ceremonies and rituals. He has been a really entertaining and fun character to write.
Maer:  He was certainly fun to read. He has so many layers and and colors. Speaking of color, if you had to pick a color to describe Juliana what would that be and why?
Jody:  Juliana is purple. She can't help it. It's been her favorite color since she was born. She has a lot of purple things around her, like her bedspread and her hiking pack. She likes to wear purple too.
Maer:  Well, that's also my own favorite color. Jody, who are your own favorite authors to read?
Jody:  I love Diana Gabaldon's work. I even have some signed hardback copies of her Outlander series. I've read most of Anne Rice's novels as well. I'm always willing to read any book if someone personally recommends it to me, so I find that I read pretty much all genres. 
Maer:  Two very cool choices! Going back to your own work again, can you share a bit about your current project with us?
Jody:  Right now I am writing the third book in this series. Juliana and Nathaniel are finally able to go on their first official date.  Wait a second. Are you asking how that is possible? Didn't Juliana and Nathaniel go on a date in the second book? The second book is jam packed with action, adventure, heartache, demons, and soul possession. Somehow fate intervenes and can't quite get those two together. So in the third book, the date finally happens. As well as some heavy angelic tension, an adventure in Northern Ireland, being haunted by ghosts, and ghost hunting.
Maer:  That all sounds so exciting! I can't wait to read them both. Jody, what do you do when you're not writing?
Jody:  I mostly participate in "normal" life stuff. I'm a mom and a wife. I also teach yoga — which I love. I change hobbies like people change their… shoes (did you think I was going to say underwear? Not going there,) because life is too short not to experience as many different interests as possible. Some of the hobbies I have returned to repeatedly are sewing, gardening, photography, crocheting, reading, and baking. I wish I had more time to go hiking, and I listen to indie alternative music almost every day. 
Maer:  So many diverse interests. Does that carry over to your writing? What influenced you to write in the Paranormal genre? Do you write in others?
Jody:  Paranormal is all I write — at least for now. The genre really fits my writing style and my personality. Growing up, I was always fascinated with the metaphysical, spiritual, and the supernatural. When I started writing novels, it was completely natural to write paranormal.
Maer:  What music, if any, do you like to listen to while writing?
Jody:  For the last year or two, The National, The Twilight Sad, and Beach House have been at the top of the playlist. Sigur Ros, Radiohead, Snow patrol, and Built to Spill are usually playing as well. Music has been a huge part of my life. I've seen all these bands live too, except Beach House (hope to catch them on their next tour.) Sometimes when I'm writing I have to turn the music off, or way down, because it's too good and distracts me from my work.
Maer:  Jody, thanks for stopping by and giving us a peek into your books and how your write them. Do you have anything you'd like to add?
Jody:  Thanks for sharing a few minutes of your day with me, Maer. It's been a blast visiting with you.
Want to read Death Lies Between Us
? You can find it at Amazon and Barnes & Noble.
Jody welcomes visitors to her website or you can connect with her at her other links below: