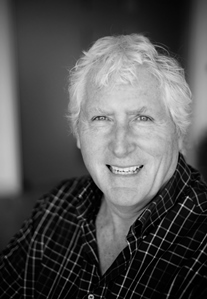 It's a pleasure to welcome John F. Hanley to my blog today! John is the author of Against the Tide, a fascinating look at the life of a young swimmer training for the Olympics in 1939 Jersey. This is a book that has definitely made it onto my To Be Read list. Let's find out more!
About John F. Hanley
Born in Jersey in 1946,  John trained at the Guildhall School of Music and Drama before teaching in London, Jersey and Cornwall.  After a master's degree at Bath University, he returned to Jersey as deputy head of his old school. His first novel, Against The Tide, was published in 2012 and he now lives with his wife and family in Cornwall.
Read on for more about John and his novels.
In a BBC radio interview John explained why he wrote Against The Tide and The Last Boat.
"I grew up in Jersey surrounded by the artefacts of the German Occupation. My mother lived through it and every adult I knew had a story to tell. Through extreme good fortune my mother avoided the fate of several islanders when the Germans bombed and strafed the harbour on Friday 28th June 1940.
During the summer evenings she always walked with her mother and a married couple from across the road to the harbour after their tea. That evening she had a stomach ache and only the married couple went. The husband was killed and, as the four of them usually kept together, it is more than possible that my mother and grandmother might not have survived.
Because of this I've always had a strong affinity with that period and an urge to relive it through the eyes of a young man who would have been my mother's age at the time. I wanted to experience what it must have been like to cope with all that was thrown at the hapless islanders after the British government abandoned them to the less than tender mercies of the Germans.
I'd already written The Last Boat before Against The Tide was published and have planned a series which follows the main characters through the war years. Following the success of the first novel, it's now time to launch the second and throw myself into 1941 for the third which I have provisionally entitled Room 39 "
 About Against the Tide
It's July 1939 and even though Poland is trapped between Adolph Hitler and Uncle Joe Stalin, everyone hopes war can be avoided. On the island of Jersey, eighteen-year-old Jack Renouf is forbidden from associating with his own Uncle Fred because of his dangerous Communist views and salacious liaison with his Spanish mistress. Caught in his own velvet trap between outrageous Caroline and secretive Rachel, Jack doesn't pay too much attention to international affairs especially during this glorious summer when, despite the darkening horizon, everyone is in holiday mood.
In his final days at school, Jack is focussed on breaking the one-minute barrier for the 100 yards freestyle so that he can get into the British swimming team for the 1940 Helsinki Olympics. Desperate for those last few seconds, he listens to Miko, an enigmatic Jewish refugee who works as a waiter in a local hotel but claims to have trained the Romanian water polo team for the Berlin Olympics. He persuades Jack to try some new techniques, which he promises will bring him success. But everyone else at the swimming club is suspicious of Miko who always wears the same white tee shirt and never seems to swim.
An arrogant Dutchman on holiday in the island bullies Jack during a water polo match and his carefully constructed sang froid boils away as he retaliates viciously and has to suffer the disciplinary consequences.
Now let's shine the spotlight on John!
Maer:  Where did the inspiration for your book come from?
John:  My mother was the initial inspiration. During the hot summer of 1940 as the German armies rampaged across France and threw the English into the sea she watched with horror from Jersey, her island home.
She was born in 1920 just after the end of the 'war to end all wars'. During those four long years Jersey, sent 8,000 troops to fight in the trenches. More than 1,200 were killed and, in an island with a population of less than 50,000, that loss was keenly felt. Jersey, located in the bay of St Malo, is only ten miles from France and too far away to hear the great guns drumming in Flanders.
Now, twenty-two years after they'd fallen silent the Germans were staring at the island across the short stretch of water. But would they come?
Each day the population held its collective breath but life had to continue. On each of those sunny evenings in late June my mother, her mother and a couple of friends who lived across the road, used to walk to the harbour area after tea. On Friday 28th June they washed up and set out but my mother had developed a headache and felt queasy so she stopped and my grandmother took her home. The married couple continued.
At ten minutes to seven, three Heinkel 111s of the Luftwaffe swept in from the east to bomb and strafe the harbour. Eleven civilians were killed and many more wounded. At seven o'clock the bombers departed just as the air raid warning sounded. One of the married couples didn't return. What if my mother had felt well enough to continue?
Maer:  What if, indeed! That's a fascinating story, John. Your book is very complex, but could you give us a one line synopsis for it?
John:  It's July 1939: Jack Renouf is 18 and in love; his father hates him, his uncle is a Communist, his best friend is Jewish — now a Dutchman is drowning him in front of 500 witnesses: it's time for Jack to start swimming against the tide.
Maer:  Is this a stand-alone or can we look forward to more from these characters?
John:  Against The Tide is the first in a planned series of ten books.  The second, The Last Boat, will be published on 1st August 2013 though it will be launched in Jersey on Friday 28th June as it features the German attack on the island on that date in 1940.
Maer:  Ten books! Now that's what I call dedicated. Which character other than Jack is one of your favorites to write and why?
John:  Caroline is the most challenging though her rival, Rachel, is far more loveable – at least in the first book. The feisty Caroline is unpredictable, yet highly complex. Her superficial arrogance masks a young person damaged by her father's indifference and callous infidelity.
Maer:  John, if you had to pick a color to describe Jack what would that be and why?
John:  Blue: Jack has a deep need to find inner peace and truth, to live his life according to his ideals and beliefs without having to change his viewpoint to satisfy others.
Maer:  Who are your favorite authors to read?
John:  John D MacDonald and Lee Child are two regular favourites and I've just been re-reading Neville Shute. I love JD's sharp writing and his brilliant character descriptions. Lee Child is dynamic though I prefer it when he writes in the first person. Neville Shute is a superb story teller who was a major influence in my teenage years.
Maer:  Can you share a bit about your current project?
John:  The Last Boat is in production with my publisher, Troubador, at present. I've finished the first copy edit revision and returned the corrected manuscript. This is the second time I've been through the process and it is quite daunting to receive a parcel of 400 pages through the post nearly all of which are covered in the red ink of an editor's hieroglyphics!
The production manager who designed the cover for Against The Tide has almost completed the one for the new book. Press Releases, Author Information sheets and other marketing materials have been signed off and now I'm waiting for the printer's proofs. If my last experience is anything to go by, that will be another couple of rounds of assault by red ink!
When I'm satisfied that we've trapped all the typos, grammatical inaccuracies and other debris, I'll have to sign a pass for press form and the final manuscript will be printed and published in paper back and ebook format.
I have been informed by careful readers that there were four errors in Against The Tide which isn't too bad for a 122,000 word novel but how did they escape our notice?  Fortunately, they've now been corrected for the re-issued ebook.
Maer:  Yes, that's pretty incredible! What do you do when you're not writing?
John:  Apart from trying to get the books noticed through social media and other publicity outlets I try to keep up to date with my research as there are still another seven books to write. Yes, two + seven only equals nine out of the ten book series but the last one is already written though I have to keep amending it as my characters keep departing from their scripts. Luckily, after forty years of teaching drama, I find that more fascinating than irritating!
For fitness I swim, play golf and exercise in my mini-gym. I also play the piano and spend a lot of time with my two grandsons, Jack (4) and Louis (3)
Maer:  What influenced you to write in your genre? Do you write in others?
John:  I'm not entirely sure which genre best describes my series of books. On the surface it is historical fiction and Against The Tide was a coming of age adventure with numerous emotional entanglements. One reviewer summarised it far better than I can:
"This book is a rich soufflé of young love, war, sport, greed and friendship. On the outside it's a thriller with races, boat-chases, shootings, spies, and a roller-coaster-ride ending. On the inside it's a touching coming-of-age story that has resonated with me days after finishing this book. Wow. Made me remember what it was like to be young in the summer and made me want to buy a motorcycle. What an ending! Can't say enough good things."
Maer:  What a fabulous review! I can't wait to read this book. What music, if any, do you like to listen to while writing?
John:  As the stories are set during the 2nd World War, I tend to have music of that period playing as I write. I have a collection for each of the war years and have to ensure that I don't mention a song before it has become well known. I've also added some period music to my website to create atmosphere. As Caroline is a budding concert pianist and there are a couple of scenes with her playing Beethoven and Chopin I find listening to recordings of the relevant pieces quite inspiring.
Maer:  That makes perfect sense. John, do you have anything you'd like to add?
John:  Only that this is quite a mammoth task that I've set myself in retirement and I have been alarmed at the amount of time I've had to devote to marketing.  However, because of my new found 'fame' I was invited to adjudicate Jersey's Literary Festival this year. This wasn't an unusual activity for me as I'd taught English and Drama for nearly forty years but it was fascinating and refreshing to set aside my own work and concentrate on other aspiring authors for a while. I was also commissioned to produce an article on writing in retirement for Jersey's only newspaper.
John, it sounds as if you are busy, but having loads of fun, too. Best of luck to you for your continued success. It was a pleasure having you share some insights into your book. Thanks for stopping by!
You can buy Against the Tide
 at Amazon.
To stay up to date with John, be sure to check his links below.
John's Website – Be sure to stop by for more information about the series and lots of background photos and details.
Troubador, John's Publisher – This has John's listing for Against The Tide and provides further links to radio and print interviews, reviews etc.