Blackness Awaits Book Tour & Giveaway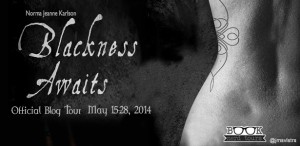 Norma Jeanne Karlsson
is

Blackness Takes Over is Norma Jeanne's debut novel. What began as an homage to the home town of a homesick Midwestern girl, unfolded a story of love, danger, humor, and trust. And now we have her sophomore effort in the series. We can't wait to see what thrilling saga she leads us through next in Blackness Awaits!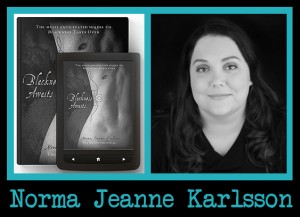 Originally from Kansas City, Missouri, Norma Jeanne recently found herself relocating to the United Kingdom. Now living in Belfast, she took hold of the opportunity to kick the 9-5 job for a chance to become an author. The best part: working from her home office, she gets to spend more time with her cast of crazy characters (written and real).

In her free time Norma Jeanne is a voracious reader and consumes books as readily as meals. She is a people watcher by nature and uses her experiences in life, observed or otherwise, to build the worlds and characters that thrive in her books. A believer in the strength of the human spirit, Norma Jeanne writes the stories of people that persevere when all appears to be lost.

"Rage, rage against the dying of the light." –Dylan Thomas
Read on for Norma Jeanne's interview and to enter her giveaway!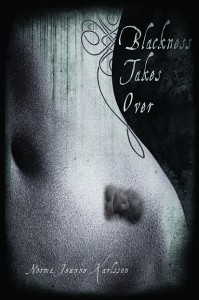 As he enters the room looking like death personified, lifeless and haunting, she knows…blackness awaits. 

Aaron Kavanagh is not to be trifled with. He's powerful, commanding, fierce and currently homicidal. The only thing that matters in Kavanagh's world is Shannon Kelly. She's the beat of his heart (yes he has one) and the peace to the fury that constantly simmers within him. Without her, his life is empty and barren. Someone took what is his and he'll stop at nothing to get her back.

Dylan Kellerman is lost. The love of his life has been ripped from him, leaving a tattered tortured shell of a man. On the brink of murderous insanity he must battle to find Shannon, even if she hates him. Dylan has betrayed her and he knows she won't forgive his indiscretions. None of that matters now. All that matters is finding her. As long as she's safe Dylan can continue to live a sad wasted existence without her by his side. Shannon brought Dylan back to life, without her in the world he'll cease to exist.

Shannon Kelly is gone. Stolen from her home and loved ones, she must now fight. Fighting has never been an issue for her, but this is a new opponent that she isn't prepared for…her past. When every reality she thought she knew is called into question, Shannon learns her life isn't what she thought it was. With the promise of a future with Dylan stolen from her before her world implodes, Shannon must rely on the family that has protected her for the last thirteen years to come for her. She won't win this fight on her own…Shannon is going to lose.
Check out the rest of Norma Jeanne's amazing tour! Blackness Awaits Tour Schedule
Now let's shine the spotlight on Norma Jeanne!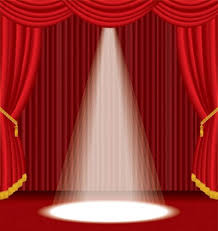 Maer:  Norma Jeanne, thanks for joining us to tell us about your new book.
Norma Jeanne:  Thank you for hosting a stop on my tour!
Maer:  My pleasure. Now let's dive right in. What is the funniest or oddest thing that has happened to you as an author?
Norma Jeanne:  One of the things I got a kick out of recently was a review I received for my debut novel, Blackness Takes Over. The review was really great. It was positive and informative with well thought out constructive criticism. The part that made me laugh out loud was all the details were wrong. The book title, characters names and ages, events that took place and the best…romantic involvements were between the wrong characters. So while they enjoyed my book and wrote a nice review, it really was not a representation of BTO, but I got a good laugh out of it.
Maer:  Do you use beta readers and, if so, what qualities do you look for in a beta?
Norma Jeanne:  I don't use beta readers. I tried with BTO and didn't have a lot of success. I have a few people that read my manuscripts that I've known and trusted for years.
Maer:  Which character, other than Shannon, is one of your favorites to write and why?
Norma Jeanne:  Aaron Kavanagh! I love him and have loved him from the first line I wrote of BTO…which was about him. He's actually where the series began in my head. He's mean, harsh, scary, nasty and a lot of other horrible things. But within his family and with the people he loves, he's everything for them. There's a streak of softness that he possesses that brings a smile to my face every time I write him.
Maer:  Characters like that are fun to write and fun to read! If you had to pick a color to describe Shannon what would that be and why?
Norma Jeanne:  Grey. Shannon goes from the lightest softest warmest of people to the darkest lowest most tortured of people. I see that spectrum when I write her. The color is referred to in BTO and BA in clothes, linens and furniture. There is obviously mention of blackness and lightness throughout the series, but I don't think of it as either-or. I see it as a spectrum travelled that Shannon can move along with ease knowing the lows and highs that exist within it.
Maer:  Intriguing choice. Can you share a bit about the project you're working on now?
Norma Jeanne:  My editor currently has book 3 of the series. It's Kieran Delaney's (new character from BA) story…and it's rough. This book is darker and more intense than the first two, but I think it fits the characters and the storyline perfectly. I'm hoping for an early summer release date. I was so inspired by Kieran's story that I flew right into Nicky's story and am a good way through it right now. Nicky's story is a diversion from the core group of the Blackness Series characters and I'm enjoying creating his new world. I'm looking for a late summer release for book 4.
Maer:  We'll be looking forward to seeing those released! What music, if any, do you like to listen to while writing?
Norma Jeanne:  I listen to a variety of music when I write. I'm an eclectic music person so for BA I went from Tori Amos to Eminem. I threw in a little Five Finger Death Punch and rounded it off with some Dvo?ák. I let the mood of the scene I'm writing decide the music not the other way around. That means there are a lot of times where I'm sitting in a silent room because the scene doesn't have a sound I want to hear other than my fingers on a keyboard.
Maer:  Ah, eclectic is my style, too. Thanks again for stopping by and for a great, interview, Norma Jeanne!
You can buy Blackness Awaits at these retailers:
You can find Norma Jeanne at these links:
Norma Jeanne's Giveaway
5 Winners will receive an  E-Copy of  Blackness Takes Over by Norma Jeanne Karlsson.
2 Winners will receive a Signed Copy of  Blackness Takes Over by Norma Jeanne Karlsson.
3 Winners will receive 4GB USB flash drives by Norma Jeanne Karlsson.
7 Winners will receive Postcard and Bookmark by Norma Jeanne Karlsson.
4 Winners will receive Sticky Notes and Pens by Norma Jeanne Karlsson.
Click below to enter:
This tour is sponsored by