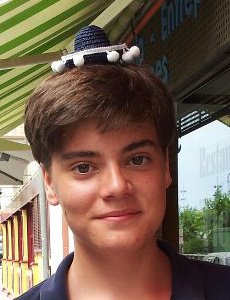 Today's guest is from the world of poetry. Ollie Lambert has a unique voice and with his first poetry collection, Quintessensual, published at only sixteen years old, we can expect even greater things from this young author.
About Ollie Lambert
Ollie Lambert is a sixteen-year-old poet from Sussex. His poetry writing stemmed from a love for music and song-writing in particular. He found that his lyrics took the form of poetry in many respects so decided to try his hand at some poetic pieces.  To get criticism on his work he joined a writing site, where he received feedback and help on refining his poetry technique. Ever since he has won competitions for his poetry, website, and his work online in general. Although his age may be considered a disadvantage, he see's it as an opportunity to learn from others and hopefully by starting out young, his writing journey will become an extended one.
Read on for more about Ollie and Quintessential!
About Quintessensual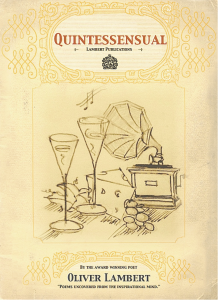 Quintessensual brings together twenty-five poems expressing the diversity and range of the five senses. Some poems are light-hearted, even comic, whilst others are more serious. The five senses are how we experience life itself, and in this collection of poems, life is captured and celebrated, as a source of wonder and creative inspiration, hence its title.
Now let's shine the spotlight on Ollie!
Maer:  Ollie, thanks for joining us to tell us about your new book of poetry. What is the funniest or oddest thing that has happened to you as an author?
Ollie:  I suppose the oddest thing that has happened to me as an author, would be 'The Poetry Challenge'. This was something I set up towards the beginning of my realization of creative writing. On a writing site there would be a challenge where by people could request poems from me on any topic whatsoever. This started out as a way for me to give back to my fans, but as the weirder and weirder requests came in it became a challenge for me to try and write poems fitting specific specifications. I had to write poems ranging from requests such as 'Use My Big Toe as the title' to 'write a poem about paperclips'. I am still undefeated.
Maer:  That sounds challenging, for sure! Do you use beta readers and, if so, what qualities do you look for in a beta?
Ollie:  Personally I don't use beta readers. I haven't really got round to using them. I get my parents to read over my work if it is something serious, publication for example. I have heard from people who do use these though, that they are incredibly useful. I suppose if I were to start using beta readers, I would look for someone I can trust, and is experienced in my genre. There isn't much point asking a sci-fi reader/writer, to read a romance novel is there.
Maer:  Could you give us a one line synopsis for your book?
Ollie:  A collection of poems expressing the diverse qualities of the senses, expressed through all sorts of emotions.
Maer:  Is this a stand-alone or do you plan on following this up with more poetry collections?
Ollie:  Currently this is a stand-alone book, however, this does not mean that it will necessarily stay that way. I have had a few ideas for my future collections of poetry, and once they're written, they could well end up linking into a series of poetry collections.
Maer:  Who are your favorite authors to read?
Ollie:  Unfortunately nowadays I don't do very much reading. This is simply because I do not have the time. It is a great shame and I try to pick up a book or two in the holidays, but during term time I don't read a huge deal. When I was little, I always used to read Michael Morpurgo. He was and is my favourite children's author. He has a particular skill which is that he can really engage and communicate with his readers.
Maer:  Can you share a bit about the project you're working on now?
Ollie:  At the moment, because of school I am finding it hard to get any new projects going. After the reception I got for my previous anthology, I'm keen to release another one, but because of the amount of work I have at the moment, I think I am going to have to work on projects in the holidays. I have however had a couple of ideas for some new collections of poetry. I'm not going to let any of them out yet, but keep a look out on my website to see what I'm up to.
Maer:  I'll be sure to do that! What do you do when you're not writing?
Ollie:  When not writing I'm either studying one of my subjects (Music, Maths, Physics, and Music Tech) or most likely writing music. If you asked me, I'd say creative writing is more of a hobby. I aspire to be a commercial composer, so writing film scores and music for tele and radio. That is what I love and spend most of my time doing. My poetry writing is what I started doing when I realized people were enjoying reading my poetry and I was enjoying writing it. So my main thing is music.
Maer:  Ollie, what influenced you to write poetry? Do you write in other genres?
Ollie:  There is no particular person who inspired me to write poetry. It all started when I joined a writing site and started posting bits of stories I'd tried to write. I started to get feedback, and as I did I decided to try my hand at some other genres as well. Out of all these, the one that got the most positive feedback was poetry. So that is what I decided to focus on to refine my style and technique. To this very day, the reason I write poetry is not only because I love to, but also because it is the best received by my audience.
Maer:  What music, if any, do you like to listen to while writing?
Ollie:  Oh no. I can't listen to music while writing. I think it might be because I love writing music and poetry, that I just cannot combine the two. When I'm listening to music, I'm listening to music. I cannot do anything at the same time; my brain has to concentrate on that solely. The same goes for when I'm writing poetry. Because I am so into both of them, they both require my full attention, so if I did both at the same time, one would detract from the other. When I do listen to music, I listen to anything that isn't Heavy metal/screamo.
Maer:  Thanks again for stopping by today, Ollie. Do you have anything you'd like to add?
Ollie:  I can't think of anything other than to say that you can find me at my website oliverlambert.wordpress.com and a huge thank you for having me. Don't forget to stop by and check out my latest and first release on amazon, Quintessensual. Thanks.
You can buy Quintessensual
 at Amazon and Amazon UK.
You can find Ollie at the following links: