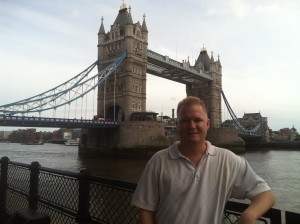 Please join me in welcoming today's fascinating guest, author Roy Huff. Roy's YA epic fantasy, Everville: The First Pillar, blends a contemporary setting with the ingredients we've come to expect in epic fantasy, when a college freshman travels to another dimension, Everville. I'm still reading this book, love the premise and I'm thoroughly enjoying it.
Let's find out more about Roy and Everville!
About Roy Huff
Roy Huff is the author of Amazon's #1 international bestselling epic fantasy novel, Everville: The First Pillar. This is the first installment in the remarkable Everville series which combines elements of epic fantasy and young adult fiction in a form that nearly anyone will enjoy reading, young or old. He is a man of many interests including but not limited to science, traveling, movies, the outdoors, and of course writing teen and young adult fantasy fiction. He holds five degrees in four separate disciplines including liberal arts, history, secondary science education, and geoscience. Roy Huff's background includes work in art, history, education, business, real-estate, economics, geoscience, and satellite meteorology. He was born on the East Coast but has spent more than half his life in Hawaii, where he currently resides and writes his epic fantasy sagas.
About Everville: The First Pillar
Owen Sage is the emblematic college freshman at Easton Falls University. With all the worries about his first year in college, he was not prepared for what would happen next. His way of life was flipped upside down when he mysteriously crossed into another dimension, into the beautiful land of Everville. His excitement was abruptly halted when he discovered that there was a darkness forged against both the natural world, which he knew well, and the new land which he discovered, Everville. He must devise a plan to save both worlds while joining forces with the race of Fron and The Keepers, whom both harbor hidden secrets he must learn in order to gain power over the evil that dwells in The Other In Between.
With a race against time to save both worlds, his short time at Easton Falls did not quite prepare him for the evil, dark forces he must fight in order to conquer The Other In Between.
Now let's shine the spotlight on Roy!
Maer:  Thanks for joining us to tell us about Everville: The First Pillar, Roy. Where did the inspiration for this book come from?
Roy:  The book started as a paper for an English class for one of my degrees. It was well received, and I was encouraged by others to turn it into a book.
Maer:  Could you give us a one line synopsis for your book?
Roy:  A seemingly normal college freshman gets drawn into a fantasy world, and discovers he must stop an insidious force trying to overtake that realm as well as his own world, a New England university.
Maer:  I love the premise of you book. The characters draw you right in. Which character other than Owen is one of your favorites to write and why?
Roy:  I really liked The Keeper. His wisdom is very appealing.
Maer:  I can see that. He's an intriguing character. If you had to pick a color to describe Owen what would that be and why?
Roy:  Purple, no reason other than it's my favorite color.
Maer:  It's my favorite color, too. So, good choice, Roy. Who are your favorite authors to read?
Roy:  I love all the greats in the genre, C.S. Lewis, Jules Verne, Tolkien, Rowling, George Orwell, among others.
Maer:  Since Everville: The First Pillar is the first in the series, can you share a bit about your current project?
Roy:  I'm currently working on the follow up book, Everville: The City of Worms, which I hope to have available in August. It picks up where the first book leaves off, but I don't want to delve much farther than that into the story.
Maer:  Perfectly understandable. So, what do you do when you're not writing?
Roy:  I currently work as NASA/NOAA's Pacific Region GOES-R Satellite liaison in conjunction with the University of Hawaii, but I will once again be teaching math and science beginning this summer.
Maer:  Yay, for being a teacher! Roy, what influenced you to write in your genre? Do you write in others?
Roy:  I am a huge science fiction and fantasy fan. I love ideas relating to time travel, parallel worlds, and scifi fantasy in general. I'm a trekkie, potterhead, whovian, ringer, and lover of all things in the genre.
Maer:  Ah, you just hit some of my own personal favorites! What music, if any, do you like to listen to while writing?
Roy:  I don't listen to music, but I do often watch TV, usually the scifi channel, some other scifi/fantasy show, or sometimes, late night comedy shows.
Maer:  Do you have anything you'd like to add?
Roy:  Readers can enter an international Goodreads signed paperback giveaway for Everville: The First Pillar ending June 14th here http://www.goodreads.com/giveaway/show/51905-the-first-pillar The audio book will also be released on Itunes, Audible, and Amazon within the next couple of weeks.
Thanks again for joining us today, Roy.
You can find the series on Amazon at the links below:
Everville: The First Pillar Book #1 Kindle
Everville: The City of Worms Book #2 Kindle
Everville: The Rise of Mallory Book #3 Kindle
And you can find Roy at the following links: