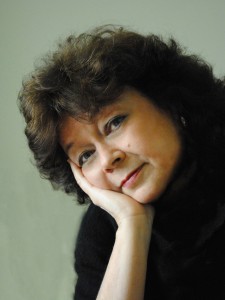 Today's special guest is S.R. Mallery, with her intriguing novel, Unexpected Gifts.
About S.R. Mallery
S. R. Mallery has worn many hats in her life.  Starting out as a classical/pop singer/composer, she moved onto the professional world of production art and calligraphy, followed by a long career as an award winning quilt artist/teacher and an ESL/Reading instructor.  Her short stories have been published in descent 2008, Snowy Egret, Transcendent Visions, The Storyteller and Down In the Dirt.  Unexpected Gifts is her debut novel.
A former New Yorker, S. R. Mallery hails from a prominent writing family––her father, Jerome Ross, was a prolific television writer beginning in the Golden Age of Television, who also wrote for such shows as Mission Impossible, for which he won an Edgar Allen Poe Award, and The Defenders; her grandfather was a Pulitzer prize winner for biography and her great-uncle, a Pulitzer prize winning poet.  
Please read on for more about S.R. and her debut novel!
About Unexpected Gifts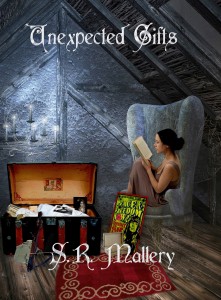 When Ancestors Come Back to Help
Can we learn from our ancestral past?  Do our relatives' behaviors help mold our own?  In Unexpected Gifts, that is precisely what happens to Sonia, a confused college student, forever choosing the wrong man.  Searching for answers, she begins to read her families diaries and journals from America's past: the Vietnam War, Woodstock and Timothy Leary era; Tupperware parties, McCarthyism and Black Power; the Great Depression, dance marathons, and Eleanor Roosevelt; the 1910 immigrant experience and the Suffragists.  Back and forth the book journeys, weaving yesteryear with modern life until finally, Sonia begins to make the right choices.
Unexpected Gifts is a work of literary fiction, laced with historical events for ages 16 and up.
Now let's shine the spotlight on S.R.!
Maer:  Thanks so much for joining us today, SR. Where did the inspiration for your book come from?
SR:  Many moons ago, while visiting my parents, I had my very young daughter nestled up against me in bed. I started reading a short story my mother had written, and as I glanced down at my sleeping child, it suddenly occurred to me that there were three generations in bed that night. I remember how comforted I felt by that symbolism and I suppose that thought never quite left me.
Maer:  That's a great backstory. What is a one-line synopsis for your book?
SR:  A confused, modern-day girl, forever making wrong choices in men, gains wisdom from her American ancestors through their diaries/journals from the Vietnam/Woodstock era, the 1950's––early '60's Tupperware/McCarthy/Civil Rights period, the 1930's Depression, Dance marathons, the Henry Ford immigrant experience, and the 1915 Suffragist movement.
Maer:  Is this a stand-alone or part of a series?
SR:  It's a stand-alone. Maybe some day….?
Maer:  Which character other than Sonia is one of your favorites to write and why?
SR:  Daria from Ireland. I researched the sing-song grammar used during the early 1900's and as I wrote, I be talking her thoughts out loud like the lyrical person she was, don't ya know!
Maer:  If you had to pick a color to describe Sonia what would that be and why?
SR:  I can't really think of a color for Sonia, but I certainly can for Daria.  Green.  Vibrant green, like the color of her eyes, the treasured shamrock she received as a present from a   special person in her life, and the non-ending lushness of Ireland.
Maer:  Who are your favorite authors to read?
SR:  Actually, I am quite eclectic––whatever book grabs me, whether it be because of unique   prose, droll humor, an intriguing plot, or simply great characters I'm itching to learn more about.
Maer:  Can you share a bit about your current project?
SR:  I'm doing edits on a collection of short stories with a tiny 'thread', entitled, Sewing Can Be Dangerous and Other Small Threads. The book combines history, mystery, action and/or romance, and ranges from drug trafficking using Guatemalan hand-woven wallets, to an Antebellum U.S. slave using codes in her quilts as a message system           to freedom; from an ex-journalist and her Hopi Indian maid solving a cold case together involving Katchina spirits, to a couple hiding Christian passports in a comforter in Nazi Germany; from a wedding quilt curse dating back to the Salem Witchcraft Trials, to a mystery involving a young seamstress in the infamous Triangle Shirtwaist Factory fire; from a 1980's Romeo and Juliet romance between a rising Wall Street financial 'star' and an eclectic fiber artist, to a Haight-Asbury love affair between a professor and a beautiful macramé artist gone horribly askew, just to name a few.
Maer:  Sounds fascinating! What do you do when you're not writing?
SR:  I teach ESL students, read (for both pleasure and research), watch movies (I'm a sucker for them), do a little gardening and cooking but just as often end up hanging out with family and friends.
Maer:  What influenced you to write in your genre?  Do you write in others?
SR:  I just love history, particularly about the U. S.  However, I have also written short stories that take place in more modern times and that was enjoyable as well.
Maer:  What music, if any, do you like to listen to while writing?
SR:  I don't listen to music while I write, but I certainly do listen to tons of music in general,    to give me ideas––plots, scenes, motivations, character development.
Maer:  SR, once again thanks so much for dropping by today and sharing about your fascinating book. Do you have anything you'd like to add?
SR:  Just a hearty thanks for interviewing me, Maer!!
Maer:  It was my pleasure! Best of luck with your novel.
You can buy Unexpected Gifts
 at Amazon.
You can find S.R. at the following links:
SR's Website
SR on Facebook
SR on Twitter