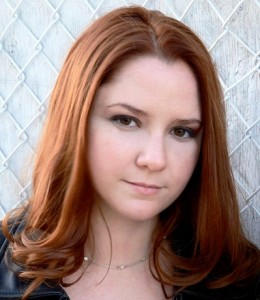 Today's special guest is the awesome Tina Moss. Another long time author friend who is very supportive and loads of fun, it's a treat to have her on today talking about her new book, A Touch of Darkness.
About Tina Moss
Tina Moss is not your mother's author, but she's got a book just for you. If you enjoy a story that's out of the ordinary, then pick up her urban fantasy, paranormal romance, romantic suspense, or New Adult novels.  She lives in NYC with a supportive husband and alpha corgi, though both males hog the bed and refuse to share the covers. When not writing, she enjoys reading, watching cheesy horror flicks, traveling, and karate. As a 5'1″ Shotokan black belt, she firmly believes that fierce things come in small packages.
Read on for more about Tina and A Touch of Darkness.
About A Touch of Darkness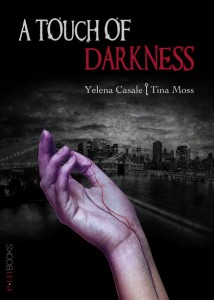 Cassie's working for a tightwad boss at a pretentious NYC diner, dealing with paralyzing pain that doctors can't diagnose, and trying to hide her hands that glow purple whenever she …well, whenever. 

So, when a mysterious stranger walks out of her dreams and into her life to spout some nonsense about her being a mythical creature, she chalks it up to one more crazy thing to add to her it's-a-crappy-life list. Yet, when the stranger's predictions start to come true, she discovers a world that could shake up her humdrum existence.
Now let's shine the spotlight on Tina!
Maer:  Tina, thanks so much for joining us to tell us about A Touch of Darkness. What is the funniest or oddest thing that has happened to you as an author?
Tina:  I think it happens to most authors, but it has to be when people ask, "So when's the movie coming out?" or "When are you going to buy your mansion?". The reality vs. perception of an author's financial success is very different. While I don't count success in monetary value, I believe some people see only the high profile authors and think everyone must be making six figures. Not the case. Thank goodness I love my day job. 🙂
Maer:  Do you use beta readers and, if so, what qualities do you look for in a beta?
Tina:  I always use beta readers. They are my go to people for quality control. I have a set group of people I work with now, but I would recommend anyone who loves books as the number one requirement. I also prefer people who read or are familiar with my particular genre as they tend to know the nuisances of what is working or not according to specific genre standards and patterns.
Maer:  Great advice. What is a one line synopsis for your book?
Tina:  A Touch of Darkness is BUFFY meets Devil's Advocate where the villains are demons, the lawyers are casino tycoons, and the angels don't play by the rules.
Maer:  Is this a stand-alone or part of a series?
Tina:  My co-author, Yelena Casale, and I envisioned it as a four book series. However, it can easily stand alone and subsequent books will be dependent on reader interest. If readers want more, then we're ready to write them.
Maer:  Glad to hear we get more! Which character, other than Cassie, is one of your favorite to write and why?
Tina:  Great question! I have to go with Rafe. He's got this arrogant bad boy persona that is so fun to write. What you see is what you get with Rafe and he'll tell you exactly what he thinks…even if you don't want to hear it.
Maer:  If you had to pick a color to describe Cassie what would that be and why?
Tina:  Easy one. It'd definitely be purple. Cassie's hands glow purple without her control. She's got to figure out why and how to handle it. Purple also personifies wisdom, royalty, and mystery. While Cassie may not be royalty, she's definitely wise beyond her years, and her unique quirk forces her to be mysterious.
Maer:  Who are your favorite authors to read?
Tina:  Too many to list them all. But, some of my favorites are Jeaniene Frost, Gena Showalter, Ilona Anderws, Nalini Singh, and J. R. Ward. I also adore MaryJanice Davidson's "Undead" series.
In YA, I'm a huge fan of Heather McCorkle, Jennifer L. Armentrout, J. K. Rowling, and Suzanne Collins. But, those are truly just a few. I am an avid reader! Oh wait. I can't forget, J. R. R. Tolkien. I wish he were still alive to bring us more of the Shire.
Maer:  What an awesome list! Can you share a bit about the project you're working on now?
Tina:  Which one? I have too many projects in the works. My individual book entitled Code Black is a paranormal romantic suspense with a fire wielding heroine and a hot-blooded shifter. It's with my agents now. I also have an urban fantasy started, a paranormal romance outlined, a YA magical realism serial plotted, a NA contemporary romance that I can't stop writing, another urban fantasy project with my writing partner in the works, and yet another idea that absolutely won't leave me alone. It's just a matter of which one will come to fruition first.
Maer:  Wow! Busy lady! What do you do when you're not writing?
Tina:  Sadly, work. I adore my day job working in a school, but I also teach at the college level online. So, I spend a lot of time on the computer besides writing. When I'm not chained to the keyboard, I love to travel, spend time with my husband, and take my corgi, Chuck, to the dog park.
Maer:  Tina, what influenced you to write in your genre? Do you write in others?
Tina:  I used to write picture books and middle grade once upon a time. But, when Yelena and I started talking about writing one day after karate, I realized that I really wanted to write for adults. Besides Anne Rice, I hadn't read much in the genre, but I had this idea about a unique creature that wouldn't fit anywhere but paranormal. Suddenly, I was devouring every urban fantasy and paranormal romance I could get my hands on. Within no time, I was utterly hooked.
Maer:  Yeah, the genre is seductive, all right. 🙂 What music, if any, do you like to listen to while writing?
Tina:  I can't listen to music while writing. I'll use music for inspiration, but it's too distracting when I'm actually at the computer. That said, "Into the Night" by Santana and featuring Chad Kroeger (from Nickelback — my favorite band ever besides Bon Jovi) had a big influence on A Touch of Darkness.
Maer:  Tina, thanks so much for stopping by today.Do you have anything you'd like to add?
Tina:  I just want to say a big THANK YOU for having me on your blog today. I hope readers will pick up and enjoy A Touch of Darkness. Also, enter the giveaway for a chance to win your copy. 🙂
Maer: It was a pleasure! Thanks for telling us about your new book!
Tina's Giveaway!
A Touch of Darkness Digital ARC (2 copies)
$10 Amazon or B&N Gift Card (1 available)
You can buy
 A Touch of Darkness at Amazon on October 31st, 2013.
You can find Tina at the following links: