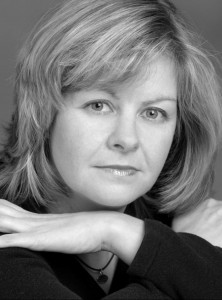 Today I'm pleased to welcome Toni De Palma as my featured author. Her new release is The Devil's Triangle. Toni is another one of the wonderful authors with Crescent Moon Press. I'm almost done with The Devil's Triangle and thoroughly enjoying it. Please join me in finding out more about her and her new Young Adult book.
Toni was born in Brooklyn, New York. As a child she spent many summers in Ischia, the Italian island where her father was brought up. Her first middle grade novel, Under the Banyan Tree, was published in 2007 and selected as a Kirkus New Voices Pick and a New York Public Library Book for the Teen Age. Her second middle grade novel, Jeremy Owl, was published in 2010. Toni holds her MFA in Writing for Children and Young Adults from Vermont College and she is a recipient of a New Jersey Arts Fellowship. She currently resides in New Jersey.
The Devil's Triangle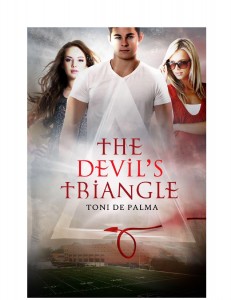 When 17 year old Cooper dies in an attempt to burn down his school, he finds himself in the afterlife. Lucy, the Devil's sister who has crossed party lines, decides to give Cooper another shot at heaven. The deal? Cooper returns to Earth and has to find a girl named Grace. The rest is up to him.
While Cooper figures out his mission, he's thrown into the life he's always wanted. Great parents, a spot on the Varsity football team and a real future are all within reach. But what he really wants is Grace, a feisty girl with an abusive boyfriend that can pound Cooper into pulp if he doesn't watch out.
While Lucy plays demonic-puppeteer, clues to an unknown past between Cooper and Grace start to unravel. Cooper discovers that what's keeping he and Grace apart is far more sinister than anything this bad boy could have ever imagined.
Now let's shine the spotlight on Toni!
Maer:  Toni, thanks so much for joining us today to tell us about your new book. Where did you first get the idea for this book?
Toni:  My main character, Cooper, was my first inspiration. Cooper is a bad boy with a good heart, a boy I would have loved to date when I was in high school. When I saw the cover with Cooper's image, I laughed. He looks like my husband (only a lot younger).
Maer:   What is a one line synopsis for your book?
Toni:  When 17 year old Cooper dies, the Devil's sister, Lucy gives him another shot at heaven if he can go back to earth and find a girl named Grace, a girl that, unbeknownst to him, he shares a history with. (Phew, you didn't say it couldn't be a run-on sentence. 🙂 )
Maer:  Nope, I sure didn't. I know I have the same issue.  Now is this    a stand-alone or part of a series?
Toni:  Part of a series. Book two, The Devil's Temptation, is with my publisher as we speak.
Maer:  Which character other than your MC is one of your favorites to write and why?
Toni:  Definitely Lucy. She is brash (she is Lucifer's sister after all) and sexy.
Maer:  If you had to pick a color to describe your MC what would that be and why?
Toni:  Cooper would be like a mood ring and changeable when it comes to colors. It depends on the situation and his reaction to it.
Maer:  Toni, who are your favorite authors to read?
Toni:  I read a lot of different types of books and authors. One of my favorite authors is the Italian author, Niccolo Amaniti. I read his books translated into English.
Maer:  Can you share a bit about your current project?
Toni:  I just finished up book two in the series, The Devil's Temptation. I don't want to give too much away because then you'll know what happens in The Devil's Triangle.
Maer:  What do you do when you're not writing?
Toni:  Uhm…laundry. 🙂  Yes, I'm pretty dull. Though when I get a chance, I love to travel. Last year I went to Ischia, the Italian island that my dad was from. Some of The Devil's Temptation takes place in Ischia.
Maer:  What influenced you to write in your genre? We already know you write in others. What are they?
Toni:  The way I read is the way I write. My first book, Under the Banyan Tree, is a contemporary YA. My second book, Jeremy Owl, is a middle grade fantasy. I'd like to write for adults too. It's dependent on what story catches my fancy at the time.
Maer:  What music, if any, do you like to listen to while writing?
Toni:  I need complete silence. I prefer to write in the morning, sitting in the sun.
Maer:  Do you have anything you'd like to add?
Toni:  Once I write a book and it is published, I release it to the world and just see what happens. One of the things I enjoy is hearing what my readers have to say. It's always fascinating and I learn a lot. Thanks for having me on your blog!
Toni, it was a pleasure to have you stop by and share more about your book. Folks, while I haven't gotten to read Toni's book yet, it is on my list and I'll be reading it within the next month. I'm one of those who enjoys YA and this one sounds like it's right up my alley. I'm looking forward to reading The Devil's Triangle.
You can buy The Devil's Triangle
 at Amazon and Barnes & Noble.
Want to follow Toni? You can find her at the following links.