Get Your Ghost On!
To celebrate Halloween, I'm giving away ""Unwanted Ghost", A Thulukan Chronicles Story #2. Starting at 12 AM Saturday, October 26, Pacific time "Unwanted Ghost" will be available for free downloads from Amazon for two days! Yep, there will be a free promotion through Amazon for TWO whole days on Saturday and Sunday!
 About "Unwanted Ghost"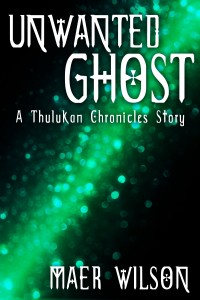 Thulu & La Fi have inherited an old, furnished Victorian. What they weren't expecting was that the furnishings included a ghost.
Usually the Thulukans are happy to take on supernatural clients for their detective agency. But there's something about Darla Redding that bothers La Fi – and with good reason. They discover that Darla has a much darker past than hinted at by her "normal" life. She's definitely not a ghost they want haunting them. So, if they want to be rid of their unwelcome house ghost, Thulu and La Fi need to solve her murder.
"Unwanted Ghost" is the second prequel novelette to Relics in "The Thulukans Chronicles."
Just go to this link at midnight and get your FREE Kindle version of "Unwanted Ghost".
"Unwanted Ghost", A Thulukan Chronicles Story #2